After close to 28+ years of selling Reconditioned Atari Carbon dot and Gold CX52 Joysticks, we have finally run out of the Atari CX52 Joystick cores to rebuild (so we are relaying on the Best CX52 exchange program to have a steady supply of CX52 Joystick cores to rebuild / upgrade) we got out of the local Sunnyvale Atari warehouses years ago. Any Atari 5200 owner who has purchased our Best CX52 Gold Joysticks, 1 to 15+ years ago from us, knows that they are now lifetime upgraded CX52 Joysticks and you do not need any spare old / used CX52 Joysticks to keep as possible back up controllers. We are asking you to send us any old / used / extra Atari CX52 Joysticks you have. Keep them from going into a land fill and recycle them so another deserving Atari 5200 owner like yourself will have the same fun / lifetime use of a Best CX52 Gold upgraded Joystick that you have. If you like Best will credit you a $6 credit per sent in CX52 complete controller core for a current Gold CX52 Joystick order or future Atari Purchase / order to Best Electronics.
Steven P. of ME. Steven took advantage of Best's Atari 5200 CX52 Joystick exchange program. He sent in two very old stock carbon dot barely working Atari CX52 Joystick cores for Best Reconditioned / Upgraded Gold Lifetime CX52 Joysticks. "After testing it on a couple of games, all I can say is WOW! These rebuilt/reconditioned controllers took my barely usable 5200 console and in an instant, transitioned it into pure retro gaming nirvana! Thank you and your team for doing what you do. Your efforts are truly helping to keep these legacy consoles running at their peak performance…and building a very appreciative fan base."
Glenn M. of Australia "My order arrived yesterday and I just wanted to say a big thank you for your advice, care and diligence in getting the ordered nicely packaged and delivered to me here in Australia. I'm so glad I also ordered the Atari Jaguar Power Pad controller conversion cable as it works very nicely on my Atari 2600. I wish you all the best and look forward to ordering from you again in the future."
John S. of NJ John contacted Best via E-Mail. He was trying to revive an old Atari 2600 for his son. He ordered one of Best New State of the Art Auto switching Atari 2600 Power Supplies. Also ordered a New boxed Atari 2600 Centipede game and two of Bests best of the best Upgraded / Enhanced CX40 Gold Joysticks. It has the Bests lifetime Gold CX40 PCB board, the Best Designed / Upgraded / Enhanced CX40 Super handle, the Best designed Enhanced / Upgraded Lifetime CX40 Silicon Joystick boot and Bests New Upgraded / Enhanced 7 foot (stock Atari 4 ft CX40 cable) Gold CX40 cable. "My son is extremely happy that now he can try the system with the power supply. He also loved how much better the joystick as compared to the original."
Follow up Comment: About a month later, John contacted Best again. He was going to place another Atari order with
Best for some different Best Upgraded / Enhanced Atari controllers (2 CX24 Gold Joysticks and a set of Best 3X lifetime use CX30-S5 Super Paddles) "My son and I both truly appreciated the help you gave us. You are correct the new CX-40 controllers we ordered are soooooo much better than the original, that remember playing with. Thank You."
Christopher F. of NM Christopher ordered 2 of Bests Upgraded Gold CX40 joysticks. They have the Best designed CX40 Lifetime Gold PCB board, the Best designed upgraded / enhanced CX40 inner Super Handle, the Best designed Lifetime CX40 Silicone boot. "I've already received the two Lifetime Gold CX40s that I ordered over the phone last week. That was speedy! The joysticks are SUPERB. I can't praise your products highly enough. Your stellar reputation is highly deserved. Best Electronics is more Atari than Atari itself has been for decades"
Jonas K. of Canada Jonas purchased Bests Jaguar Power Pad to other Atari systems adapter cable and a Best Upgraded CX40 Gold Joystick with Bests Lifetime CX40 Gold PCB, Best Designed / Upgraded CX40 Super Handle and Best Upgraded CX40 Lifetime Silicon boot. "The Best CX40 is OUTSTANDING. Put it to the Robotron 2084 test - the game which I can feel my old sticks creak to their death under my pressure - and it was strong and responsive. Amazing work. Simply amazing. Thanks again! Your continued work is a gift to the Atari community."
Faraz H. of NY On his 1st Atari order to Best, he ordered 2 of Bests Upgraded Gold CX40 joysticks. They have the Best designed CX40 Lifetime Gold PCB board, the Best designed upgraded / enhanced CX40 inner Super Handle, the Best designed Lifetime CX40 Silicone boot. This next Atari order to Best, he ordered two more of the CX40 Gold Joysticks and 2 Best designed CX40 Super handles for some old stock Atari Joysticks he had. "I have ordered two CX40's from you back in 2016 and they are still going strong. Would like to order two more of them ( the $40 ones ) along with two super handles."
Todd S. of OH On his 1st Atari order to Best, Todd ordered 2 of the Best Upgraded Gold CX40 joysticks. They have the Best designed CX40 Lifetime Gold PCB board, the Best designed upgraded / enhanced CX40 Super Handle, the Best designed Lifetime CX40 Silicone boot and the Best designed upgraded / enhanced 7 foot (stock Atari CX40 cable is 4 ft) Gold CX40 cable. Basically the Best of the Best CX40 Joysticks Bests carries. This Atari order Todd ordered 4 more the same Best CX40 Gold upgraded Joysticks. "I bought a set of your CX-40 controllers about a year ago and absolutely love them. Better that the original, when it new and I was a child...World Class product! I want these for my Telegames Heavy Sixer and Sunnyvale Heavy Sixer."
Michael T. of CA Michael took advantage of Bests 5200 CX52 Joystick cost effective exchange program. He sent in two old non working carbon dot CX52 Joysticks for 2 Best Reconditioned / Upgraded CX52 Gold Joysticks. "Its been about two weeks since I received my Atari CX52 Gold Joysticks, which you refurbished. I am delighted to say that the results have exceeded my expectations! I have, and will recommend ANYONE with original Atari 5200 Joysticks do exactly as I did and get them to you ASAP. I am thoroughly enjoying the machine now, with no worries whatsoever. Thank you for your service."
James S. of the UK. James ordered one of Bests Recondtioned / Upgraded CX52 Gold Lifetime Joysticks, non exchange version $85.00. On top of that, the International shipping charge (not including the UK Customs and VAT tax fees James had to pay on top of it all) to the UK was about 3 times the highest single shipping cost to ship one across the US. "Just a quick thank-you: I received the refurbed CX52 last week and am delighted with it. James was the very 1st Atari 5200 owner in the world to receive a Best CX52 Gold Joystick upgraded with the just released Best Designed / Upgraded / Enhanced Rev. 10 Gold Flex circuit.
Ricardo M. of TX On his 1st Atari order to Best, Ricardo picked up one of the Atari CX78 JoyPads that has been upgraded with the Bests New CX78 Gold upgrade Kits. It cures the known stock CX78 JoyPad problems that causes all of them to fail early. Its also Enhances the CX78 JoyPad and Fire button features with new Tactical feed back functions. On his second order to Best..... "I really loved the CX78 controller and now I want another one... :-). Can you please confirm the total price with shipping for one "CX78 Joypad upgraded with Best's New 2019 Gold Enhancement Kit""
Murray M. of TX Murray ordered 3 complete Best CX40 Joysticks upgraded with Bests Gold lifetime CX40 PCB board, Best designed new CX40 Super handles, new Bests CX40 lifetime Silicon boots and an extra Gold lifetime CX40 PCB board "I just received my shipment yesterday and first off, I have no idea how you got this to me so fast. No other seller of anything in the past few months has been able to get anything to me, priority mail or otherwise, so quickly. Thanks for acting so quickly! Now for the real feedback: Wow this rebuilt stick feels good. Really good. Unfortunately I've never played on a brand new CX40 so I don't have that as a frame of reference but I have played on a NOS Gemstik (just as squishy and sloppy as my dead CX40s) and a CX40 rebuilt with some PCBs from eBay that use some super tiny tactile switches instead of metal domes (very good at first but fell apart after about 2h play time)" Best has seen these new black replacement CX40 PCB boards on E-Bay and they sell for more money than the Best designed 2005 Gold CX40 PCB boards. The E-Bay seller claims the tiny micro switches are rated at 1 million cycles. The Best over sized 4 leg Gold plated Dome contacts are rated at 5 Million cycles. "and this beats both hands-down. Everything about your CX40-GSHSB stick, from the feel of the boot (Bests new CX40 lifetime Silicone boot) to the responsiveness of the buttons and directions just screams quality. At this point I'm just a little bit regretful that I didn't get the silicone boot and new wiring for the sticks I'm repairing but hopefully I'll be able to do another order in the near future for that. :) Thanks for making such great products!
Lindsay B. of NY Lindsay sent 2 old non working CX52 Joysticks in for Bests CX52 Gold Joystick exchange program. "I sincerely cannot thank you enough!!! You have given us so much to smile about:) The joysticks are amazing, and what a fast turnaround! I honestly didn't think I'd ever find a resource to get them going again...you do good and important things!!!! My 7 year old and I played for two hours straight - I had to bribe her to put it down for the night (and practice some very real restraint myself haha). Again, thank you so much! All The Best"
Darius V. of IL Darius has placed several Atari orders in a row with Best. His very 1st Atari order, he ordered 1 Best Lifetime Gold Upgraded / Enhanced CX40 Joystick with all of the options (best of the best), a set of Best upgraded Atari CX30-S5 (5 Lifetimes worth of normal use) set of Paddles. His latest Atari order he ordered a second Best Upgraded / Enhanced CX40 Gold Joystick and 2 of Best Reconditioned / Upgraded Gold Lifetime CX24 Joysticks. When Atari 1st released this new second generation (CX10 / CX40 was the 1st ones) Atari CX24 Joystick, it quickly got a bad reputation with Atari users. It seemed to almost fail right of the Atari new box or with any normal use they would fail faster than the early generation 1980's made Atari CX10 and C40 Atari Joysticks. So most very old Atari users avoid them like the plague. Best Electronics has always known the Atari CX24 Slim Line / Pro Joysticks were a better designed 2nd Gen. Atari Joystick, but had internal PCB problems that caused all of them to fail early. Atari was so busy back then with the Very Very fast growing Video Game Industry, they simply did not have free Engineering time to try to fix the Atari CX24 Joystick internal problems. So like Best has done with other Atari made controllers (Gold CX40 Joystick, CX30 Paddles and Gold CX52 Joysticks) that have always seemed to fail early, designed a new set of Best Upgraded / Enhanced Gold Lifetime CX24 internal PCB board set, that turns the orphaned Atari CX24 Joysticks into another Best Lifetime Gold Atari controller with excellent feed back Click / Tactical feel on all of the Joystick handle functions and duel fire buttons. "I have received my order, and the CX24-REG joysticks work great, thank you! I didn't think I was a fan of the CX24, it turns out I am a fan of the CX24-REG. Who knew?"
Garry R. of FL Garry took advantage of Bests CX52 Joystick exchange program and sent in 2 old carbon dot non working Atari CX52 Joysticks for Best Recondtioned / Upgraded Gold CX52 Joysticks. "Thank you for the incredibly great service. 5 days from start to finish. I bought this 2 port 5200 37 years ago, 3 years later because of necessity switched to Wico command controllers which still somewhat work for certain games. I had many more that were not workable, so to be able to play these games after all these years the way thy were intended (don't laugh) is emotional and brings back wonderful memories of a better time. and I am so happy you could help bring me there. Also I see Ballblazer and Rescue on Fractalus in my near future. Thank You for bringing these opportunities to me. You are an ATARI HERO."
Gary G. of OH Gary sent in 3 old Atari carbon dot CX52 Joysticks for Best CX52 Gold Joysticks on Best CX52 exchange program. When he received them he said "I received my sticks back. New buttons are great but I'm having a similar problem with each stick." We explained to Gary that all Atari CX52 Joysticks Bests reconditions are tested on Atari Factory consoles that are calibrated to Atari 5200 Engineering Spec's using Atari 5200 Diagnostic hardware. Just before the Reconditioned CX52 Joysticks are sent out, they again go into our 39+ year Atari Super Tech's area to be again tested on Factory spec Atari 5200 consoles. We explained to Gary, that we have found over the last 39+ years selling Atari CX52 Joysticks, that some of the Atari 5200 30+ year old consoles have electronically drifted off the Atari 5200 Factory Joystick port settings, casing the CX52 Joystick problems Gary was seeing. Atari 5200 design Engineers put in device to correct this port problem on all 5200 motherboards made. We explained that we can help Gary do the minor internal setting adjustment over the phone within his 5200 console to get his Best CX52 Joystick problems corrected. A couple of E-Mails back and forth, Best told Gary how to prep his 5200 console, the 5200 game cartridge required and the tools required before he called Best. We arranged for Gary to call Best around Friday afternoon here, where is slows down just a little (Ha ha) here. About 10 to 15 minutes on the phone with Gary: "All 3 sticks work great after calibration. Thanks."
Follow up Comment: "Sticks work great and over-the-phone console calibration was easy! I look forward to doing more business with you later!"
John F. of NY
John ordered 1 of Bests new
CX40
Joysticks upgraded with the Best designed CX40 Gold lifetime inner PCB board, Best designed new CX40 lifetime Silicon Joystick boot and Best designed / Upgraded CX40 inner Super Handle. "
Today, I opened your package and handed Jess our newly purchased Upgraded CX-40
Gold
. All she said was, "...now
that's
what I'm talkin' about..." So, it's nothing but high scores for her and I've finally saved the princess from Donkey Kong - and I totally suck. The firm, smooth stick response and a fire button that "clicks" coupled with the soft grip - makes you're upgraded CX-40 work the "
Gold
Standard" of joysticks in this house."
Michael O. of CA Michael sent in an old non working CX52 carbon dot Joystick for Bests CX52 upgraded Gold exchange program. "I love the action of this 5200 controller you had rebuilt for me its awesome."
Follow up Comment: "the joystick has a feel that takes you by surprise. It makes the 5200 very enjoyable now."
Mark S. FL Mark took advantage of Bests Atari CX52 Joystick exchange / Gold upgrade program. He sent in a non working Atari CX52 Carbon dot Joystick. "I love my rebuilt Gold Contact 5200 Joystick! It has transformed my Super System from practically unplayable to one of my favorite consoles of all time!"
Chace C. of CA Chace ordered 2 of the Best Reconditioned / Upgraded Atari CX24 Gold Joysticks, upgraded with the Best designed new CX24 Gold lifetime board sets (Gold X/Y Main board and 2 Gold fire button PCB with extra large Gold dome contacts, all 3 PCB boards have tactical sounds and feed back on the Gold dome contacts). The stock Atari made CX24 Joysticks have the bad reputation over the years of almost failing right of the new box. "The joysticks arrived safe and sound in excellent condition. They work great and feel much more responsive than the stock sticks. Thank you once again and I look forward to my next purchase with you."
John D. of CA John ordered 2 new Best CX40 Joysticks upgraded with the Best designed CX40 Gold lifetime inner PCB board, Best designed new CX40 lifetime Silicon Joystick boot, Best designed / Upgraded CX40 inner Super Handle, and just released Best designed Upgraded / Enhanced CX40 Gold 7 ft (stock CX40 cable is only 4 ft) Joystick cable. Basically the Best of the Best upgraded CX40 Joystick Bests sells. "Thank you for the Joysticks!!!! They rock! Even my 17 year old had fun!!!"
Scott S. of UT. Scott took advantage of Bests Atari 5200 CX52 Joystick exchange program. He sent in two old non working Atari Carbon dot CX52 Joystick cores and received back two Reconditioned / Upgraded Best CX52 Gold Lifetime Joysticks. "I wanted to let you know that I received my better then new Atari 5200 controllers today and they work great! Now I can really play my 5200 games they way they were meant to be played. Thank you for your great customer service and for the fantastic work you did in making my controllers better then new!"
Jimmy F. of TX. "I just wanted to thank you for the quick response filling my first order with you. I received the package today and I am very happy with the performance of the paddle controllers with your super ports installed. My originals never worked that well even when they were new back in the eighties. I will be back for more once I find the rest of my 8bit computers and peripherals and am able to test everything."
Steve M. of NC. Steve contacted Best via E-Mail. He ordered one of Bests 5200 CX53 Trackball internal rebuild parts Kits, a couple of Bests exclusive CX30 S-5 (5 lifetimes worth of use) Paddle replacement Super Pots, 2 of Bests Upgraded (with Bests lifetime CX40 Gold internal PCB boards with tactical feed back (click) Gold plated dome contacts, Best designed and just released Atari CX40 Upgraded Super handles and Bests new CX40 lifetime Silicon boots) CX40 Joysticks. He paid via PayPal. "I received my shipment yesterday. I couldn't be happier with the 2600 joysticks. Before I even turned the console on; the tactility alone is incredibly satisfying. I had spent a lot of time playing particular games but lately I had resigned to the notion that I just suck at Atari 2600 now. The first game I threw in to give the new sticks a test run (River Raid), I got further than I had in years. I've tried the cheesy joystick remakes off of Amazon and they aren't even in the same league as your product or any better than my 30+ year old originals for that matter. Track ball optocouplers, bearings and chipset, went in easy enough (I have a good soldering set). It's so much more precise now. First game of Missile Command after over a year and I was in 6x points. I don't have much to say about the paddle pots because I don't particularly enjoy the paddle games. Easy installation and they work great though. I might get a couple more for the sake of four player Warlords. Thank you for the very fast shipping and for helping the community keep a small piece of our childhoods alive!"
Jeffrey J. of NC. Jeffrey is a developer of Atari Jaguar Homebrew games. He contacted Best because he was looking for
Jaguar game Cartridge shells and internal Jaguar game cartridge PCB boards. A month before Jeffery purchased one of the Atari
CX78 JoyPads
that have been upgraded with the Best designed CX78
Gold Upgrade / Enhancement kits, that cure the known stock CX78 JoyPad problems that cause all of them to always fail early. "I ordered the 7800 gamepad from you guys at Christmas time and I just wanted to let you know it is AWESOME"
Jay S. of AL Jay sent in 2 Atari 5200 CX52 Joystick cores for our Best Reconditioned / Upgraded CX52 Gold Joysticks exchange program. "I received the two rebuilt 5200 joysticks that I mentioned in my earlier message, and I like them even better than my earlier rebuilt joysticks! Your new gold fire buttons and keypads are truly outstanding." About 3 days latter, Jay sent Best another E-Mail saying he is sending 2 more Atari CX52 Joystick cores for exchange. He end game was to demo his 5200 4 port system at school demonstration. Jay has one of the Newer Home brew 5200 games that allows 4 players to play a singe game at the same time. Because of the programming code limits, high costs of game ROMs within the game cartridge and their very limited amount of memory they had back in the 1980's, Atari never had a true 4 player head to head 5200 stock game.
Ray D. of PA. Ray purchased a complete set of Best Upgraded Atari CX30-S5 Paddles with our S5 Super Pots and 2 extra Best CX30-S5 replacement Super Pots to upgrade a set of old Atari CX30 Paddles he had. "I got a chance to play around with the paddles, and they are awesome! Thank you very much! I'll be sending in another order shortly"
Jason W. of PA Jason placed his 1st ever two Atari orders at the same time with Best Electronics. We split them into two separate Atari orders. One Mail in order for two Best CX52 Recondtioned / Upgraded Gold Joysticks exchange program. Jason sent in 2 old Atari CX52 Joysticks and 2 more extra old CX52 Joystick cores and got a $6 per extra non exchange CX52 core credit off the total exchange order cost toward the two CX52 Gold Joysticks Jason ended up. He also wanted to rebuild / upgrade 2 old non working Atari CX40 Joysticks he had. He ordered 2 Best Atari CX40 Joystick Gold Rebuild kits (Best CX40 Gold Lifetime PCB board and the New just released Best designed CX40 Super handle), 2 Bests new upgraded CX40 Lifetime Silicon boots and a Best Rev. 10 all Atari Catalog. "Thank you! I received both orders and was anxious to test everything out. It made it's was to PA at lightning speed. Love the packaging, the Atari tape! Everything is wonderful – cannot believe what a difference your redesigns have made to both these controllers (CX40, CX52). My CX40s buttons" (end of the center CX40 Fire button (which Best is sold out of) tit was worn down and would not make proper contact with new Best CX40 PCB board Gold plated dome contacts. Jason used the Best CX40 fire button Tech Tip at the Best Web site on how to correct this Atari CX40 fire button problem) "wouldn't press down because the bump was worn down, but I took about 5 layers of scotch tape and made a dot through a hold punch, put it n the center of the dome, and we are in luck. That thousandths of an inch makes all the difference. Received and loved the catalog. I cannot believe the attention to detail you pay, and it really makes all the difference. Look forward to my next purchase…..
Ian H. of Canada. "I recently ordered a CX40 joystick that was upgraded with the gold pcb board and silicon boot. (price was $39.95). I am very happy with this joystick! I am looking to purchase another one."
Aaron C. of AR Aaron did not have an old Atari CX52 Joystick to do Bests CX52 Joystick exchange program, so he went with an outright buy of a Reconditioned / Upgraded CX52 Gold lifetime Joystick. "I received the controller today, plugged it in, fired up my and was VERY happy with the performance. The old joysticks I've had never worked as well as the one I ordered from you. I didn't realize how much of the games I was missing without a fully operational controller. The tips on extending that controller life are very helpful and the additional reading material is nice as well. I'll be looking it over today. I was amazed at how fast it shipped! Only two days to get from California to Arkansas. I really thank you for all your help and amazing customer service. I will definitely recommend Best Electronics to other Atari fans/owner and will be ordering from you again."
David P. of FL "I want to sincerely thank you guys for the two CX52 Atari 5200 controllers with the Gold dot revisions that I purchased from you around 2006. When I received them they were great, and outperformed my original controllers even when they were brand new. Around 2010, the Atari went into storage, kids were into their own systems and it wasn't getting any fair play. Now, my "kids" are young adults and they were feeling nostalgic and asked about the Atari, so I pulled it out of storage, hooked it up and the controllers worked flawlessly as soon as they were plugged in! I feel this is a testament to the quality craftsmanship that Best Electronics put into both the design of the upgrade parts as well as the workmanship invested in the controller rebuild process. Many thanks!!!" 30+ year Atari 5200 History has shown, if David went with the Carbon dot version freshly rebuilt CX52 Joysticks back in 2006, they would of gone bad after 4 to 5 years of storage.
Zach R. of WI Zach took advantage of Bests Atari CX52 5200 Joystick Exchange program. He sent in two old non working Carbon Dot CX52 Joysticks for 2 Reconditioned / Upgraded Best CX52 Lifetime Gold Joysticks. "Just wanted to let you know I got the controllers back today and they're working well. Thank you for the super fast turnaround time and service"
Will of L. of FL Will contacted Best because he had an old Atari 7800 CX24 Slim line Joystick that was not working well. He read all of the information on Best's CX24 New Gold Lifetime board set (that uses the same Gold Dome contract technology, used on the very popular Best Lifetime CX40 Joystick Gold internal PCB boards) and wanted to order them. Although Will only had one old Atari CX24 Joystick to rebuild, he went ahead ordered two sets (our Min. order for the New CX24 Gold Lifetime upgrade boards) of them. "I don't know how I received it so quickly but I actually found it in my mailbox after work. I threw the new parts in my stick and it's so crisp. A 7800 stick in good working order is surprisingly good. Thank you for engineering and carrying replacement parts for such a niche product and the rapid product delivery! Mark me down as very satisfied, when I have the budget I'll be ordering 2600 stick parts for sure!"
Brain G. of WA. Brain was about ready to place another Atari order with Best and he said: "I recently purchased an improved set of paddle controllers" (Bests Atari CX30-S5 Paddles upgraded Best 2nd gen. CX30 lifetime Super Pots) "from you and they work great! I broke all my previous paddle game high scores very quickly".
Mark H of DE. Mark just ordered one of Best's 7800 CX24 Reconditioned / Upgraded with Best's new CX24 Gold Lifetime internal board set, to replace a stock always going bad Atari CX24 Joystick. In 2016 Mark ordered one of Best Reconditioned / Upgraded Gold Lifetime CX52 5200 Joysticks. "Best Electronics does it again! I received my CX-24 controller today and I have to confess I never liked playing my 7800 because the controllers I had were so bad. (I never knew any better) Today I found out how good it should be, this controller is amazing. Can not say enough positive things about Best products and service. My 5200 Best controller still rocks having had it since 3/16."
Colton M. of Canada Colton contacted Best looking for a pair of Atari CX30 Paddles. We told Colton we had Atari CX30 Paddles upgraded with Bests New 2nd Generation (five lifetimes worth of normal use) S-5 Atari Paddle Super Pots. "I have now received the order, and I must say I am very impressed. The paddles are of a ridiculously high quality - it has been a real pain for me to find decently reliable paddles lately, and now I think my search is over! Keep up the good work, if any of my buddies are looking to get into the retro-gaming scene, I know where to send them! Thanks again!"
Chris T. of FL Chris purchased one of Bests CX40 Joysticks upgraded with the Best CX40 Gold Lifetime PCB board and the new 2016 Best Lifetime CX40 Silicon Joystick boots. This is Chris's 2nd feedback comment to Best "Just wanted to let you know that I received my order for a Best CX40 joystick and it is everything I thought it would be! Great job on making these better. Ill be ordering another one soon."
Mark W. of MA Mark ordered 2 sets of Best's CX30-S5 Atari Paddles upgraded with Best's S5 (5 lifetimes use) CX30 Super Pots and 2 of Bests CX40 Gold 3rd generation Lifetime CX40 Joystick internal PCB boards. "Got the order and promptly upgraded my joysticks with the new PCB's, WOW! All my childhood memories of fighting against ailing joysticks just vanished like a dream. Tested the CX30 paddles with Warlords and am equally impressed. They are utterly smooth and perfect, better than anything I can recall as a child! Thanks again for all your hard work in making these improvements a reality. I mean that sincerely"
Dan C. of PA. Dan ordered a set of Atari CX30-S5 Paddles upgraded with Bests S-5 Super Pots (5 lifetimes with of normal use). "Goods arrived today. Go right to the acid test: Kaboom! Oh my god these feel glorious! Now I suck as bad as I did 35 years ago and it feels wonderful. Many thanks"
Danny V. of FL Dan purchased one reconditioned Atari CX24 Joystick Upgraded with Bests New 2016 CX24 Lifetime Gold board set. "I absolutely love the CX-24 Gold upgrade joystick! The CX-24 is actually a pleasure to use now! I will be buying an additional CX-24 soon. Good job!"
Stephen W. of WA Stephen ordered one of Bests reconditioned CX24 Joysticks upgraded with Bests CX24 Gold lifetime PCB sets. "I received the joystick today, thanks for the fast shipping! It's so much better than the original."
Howard Z. of Canada Howard ordered 2 of Best CX40 Joysticks upgraded with Best CX40 Gold lifetime PCB board. "Your joysticks arrived today and they are AMAZING. People can talking about the leaf switch sticks or micro-switched sticks, but yours are truly the best. The short throw, and the responsiveness are unparalleled. It's like everything you loved about the old CX-40, but without the weaknesses of the old CX-40. Thank you so much! I am sure I will be ordering more products from you."
Jim R. of MD Jim ordered some new Atari 2600 Joystick and Atari 5200 Joystick replacement ports. He also got two new Atari CX40 Joysticks that had been upgraded with Best CX40 Lifetime Gold PCB boards. "I received the joysticks today. I can honestly say I am blown away by the quality of these sticks! Does the world know you sell these? Anyone who has any interest in 2600 gaming would be thrilled to know these are available! Your CX40 Joystick upgraded with best lifetime Gold PCB board are nothing short of spectacular !!! You've reinvigorated my gaming experience! My advise to anyone contemplating buying something from eBay... Don't bother... Go with BEST!!!!"
Mike S. of OR For his 1st Atari order from Best, Mike purchased two upgraded Atari CX40 Gold Lifetime Joysticks, 1 each New Atari CX78 Joypad and New Best Atari Light Gun. "Playing games with the upgraded CX40's is a revelation and the CX78 pad was an appreciated recommendation… I'll be after another one in the future. There will be no more blaming the controllers in my household, that's for sure."
Owen S. of CO (Owens third Best feed back comment) "Both the Jaguar and 7800 games look and sound great!" Owen bought a New in the box Atari Jaguar console and a Best Electronics Reconditioned / Upgraded 7800 with Composite Video out and 7800 Euro Operating System Modification. "I am very happy with both systems, all the games and for opting to go with the CX-34 joysticks as recommended; they feel unlike any other joystick I've ever used: quite responsive and precise and a bit more comfortable and easier to hold than the CX-40s. Heresy (not) I say! : ) I am very glad to have the CX-34s over CX-24s. Thank you again for your time and help."
Keith C. of TX "Hello Best Electronics, I am sending this message to say how unbelievably happy I am with my purchase from you. The 5200 controller is simply amazing!!!" Bests Reconditioned / Upgraded Gold Dot CX52 Joystick with the New 2nd Gen. Tactical Fire buttons. "It is immaculate and plays flawlessly! The 7800 controller is awesome!" Atari CX78 Joypad "No more arthritis pain from the dreaded ProLine(PainLine) controllers.)" CX24 Atari Joystick "Had a lot of fun with Mario Bros. Thank You Best Electronics! You made my day with these controllers and a happy gamer! You got yourselves a future customer! BTW you told me I would get my order by this Friday. And I got it today on Monday!?!?!? Lightning fast!! Thanks for everything!!! You guys are simply THE BEST!!! I will recommend all my retro gaming friends to you! THANKS A MILLION GUYS!!! A+++++++++++++++:-)"
Benjamin H. of TX Benjamin got one of Best Atari new Jaguar Power pad and adapter cable to other Atari systems Combo special. "For anybody who prefers a joypad style controller for playing Atari, it really doesn't get any better than the slick and ergonomic Atari Jaguar controller pad from the 1990's. I haven't played a Jaguar since 1998, so I had completely forgot how comfortable the Atari Jaguar pad feels in adult hands. The pad moves extremely smoothly and the buttons offer a nice solid feel. I was able to achieve much higher scores on Pitfall II and Keystone Kapers using the Jag pad, and it feels as solid and as comfortable as it always did back in the 90's. Awesome build quality on the adapter cable as well, so glad to be able to use a great joypad-style controller for when a particular Atari game calls for it!"
---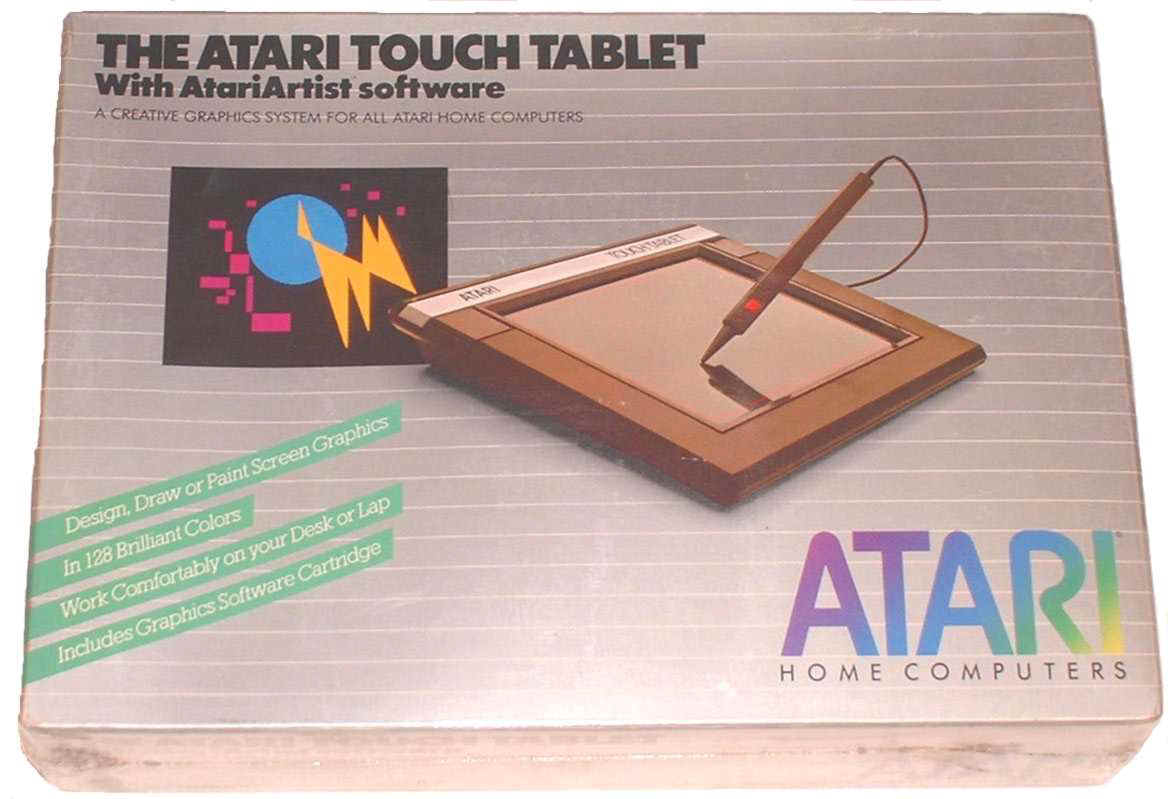 The Atari CX77 Touch Tablet is an Art and Graphics Controller that is plugged into a Joystick port and designed for use with the Atari 8 bit Computers (400, 800, 600XL, 800XL,1200XL, 65XE, 130XE and XE Game machine). You can Draw or Trace pictures with the CX77 Stylus, a pen or even your finger. You have your choice of 8 brush widths with 128 Computer Generated Colors with 8 brightness levels. Create Automatic Circles, Squares, Discs, Boxes, draw perfect Circles, Squares, Rays and Straight lines, draw a series of Connected Straight lines, Mirror Images, Fill objects, Erase objects, Magnify to eight times normal size any portion of your Atari Touch Tablet Drawings. Pictures drawn on your Atari CX77 Touch Tablet can be saved to an Atari Cassette or Atari 810, 1050 or XF551 Disk Drive. You can also load The Popular Micro Illustrator Program drawn Pictures on the CX77 Touch.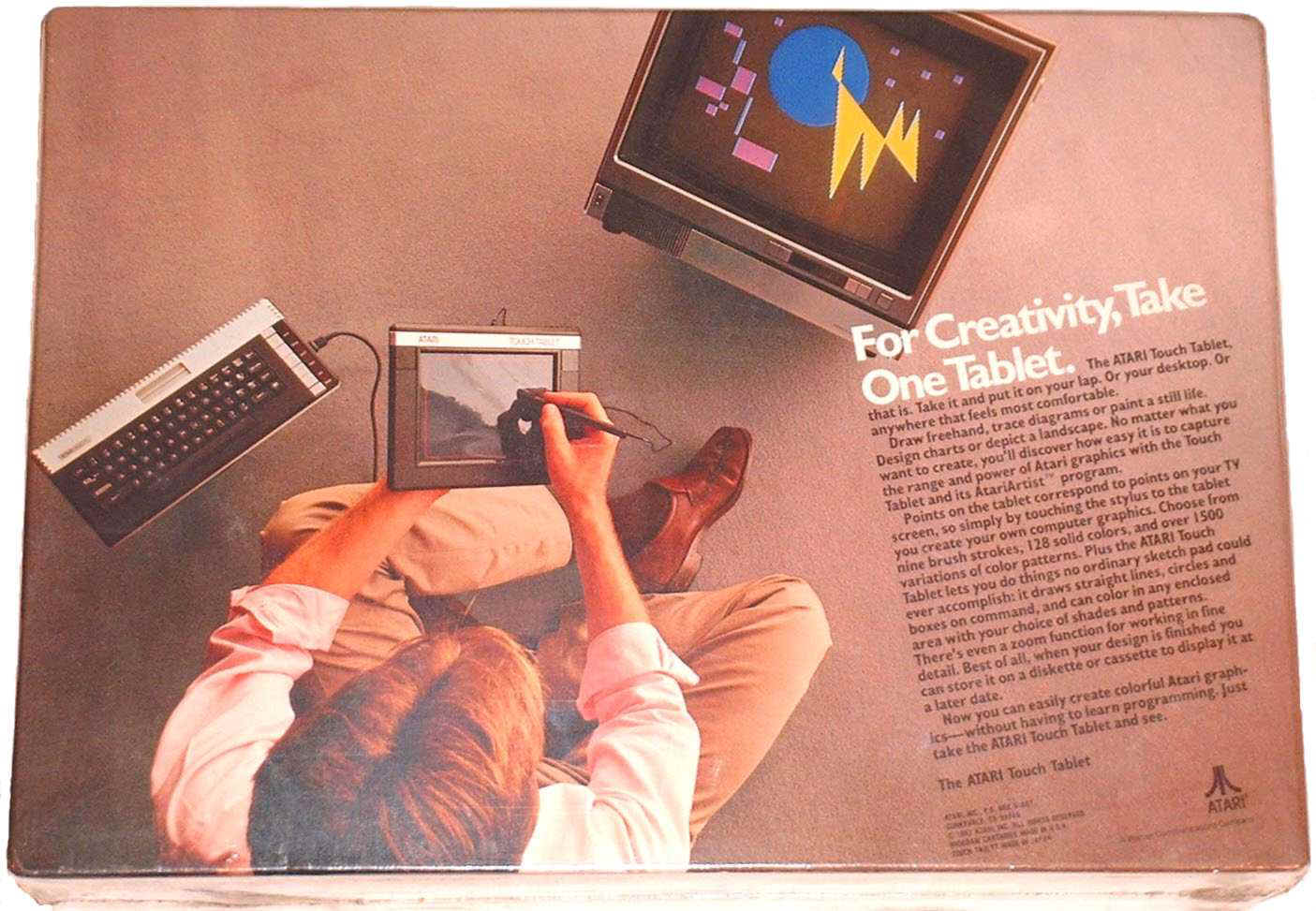 Old Atari 8 Bit Owners will remember the early Kola Drawing Pad with the smaller drawing surface. The Atari CX77 Touch Tablet was Atari's Answer to the Kola Pad a couple of years latter with many New Improvements over the original Kola Drawing Pad. The only draw back with the Atari CX77 was when they were released 10 to 15 years ago, they were always in short supply in the US. Many Atari 8 bit uses never saw one or only saw pictures of them only. We found these Rare New Atari CX77 Touch Tablets in an Atari Warehouse in Holland. The labels on the Pallets of them, said they came from the Atari Warehouse in Italy!! Best Electronics spent the time and money and re-imported then back into our US Warehouse from Holland. The Atari CX77 Touch Tablet comes with Drawing pad surface Protective Mylar cover sheet (Spare Protective covers are available from Best), Stylus Pen, AtariArtisit Cartridge and 21 Page Owners Manuals.
$79.95
---
Add Best Electronics All Atari Web site to your Internet Explorer Favorites folder.
Copyright © 2002
Best Electronics in the Atari business since February 1, 1984.
This page Last modified: May 10, 2023
Phone: 408-278-1070 (1:30 - 5 PM, PST, M - F)
Current Pacific Standard Time is:
E-Mail us at:
bestelec@bestelec.digitalspacemail8.net

Because of the big volume of Spam E-Mails we receive everyday, we had to install E-Mail Spam filters on our server. When sending an E-Mail to Best, Please put the word "Atari", Atari item or Atari part number, Atari Question or Atari Sales inquiry in the Subject line. E-Mails with the typical Spam subject matter like: Urgent, Must read, Regarding, FWD, HTML Code, Blank subject line (RE:) or other SPAM E-Mail Subject lines you receive, will be automatically deleted on our E-Mail Server and never reach us.

After sending your E-Mail to us, if you do not hear back from us within a day or less, please resend your E-Mail inquiry with a different Subject matter information or from a different E-Mail address. We do

100% respond to every Atari E-Mail we receive. But sometimes Spam Filters on your Internet Service Provider or your own personal E-Mail Spam software filter you have installed may delete or send our return Atari E-Mail to your Trash can.