We offer a complete inventory of Atari Portfolio computer repair parts (down to component level, Switches, I.C. Chips, plastics....) as well as complete computers. Not all of the 30 - 40+ Atari Portfolio parts we carry are listed here. If you do not see the Atari Portfolio part / Item you are looking for see the Best Rev. 10 Catalog or E-Mail us at:
bestelec@bestelec.digitalspacemail8.net
Atari Portfolio MS-DOS Computer
| | | |
| --- | --- | --- |
| CB102682 | Reconditioned boxed Portfolio, QWERTY Portfolio with Owners manual. | Out of stock |
---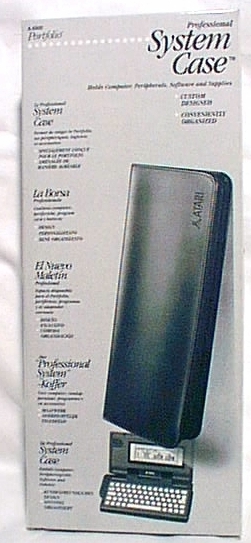 The Atari Portfolio Custom Designed Carrying case holds the Atari Portfolio, a Portfolio Peripheral, Software, Supplies and is designed to Carry and Safeguard your Atari Portfolio. Just some of the Atari Portfolio System case Features: Five individual ROM/RAM Card pockets, one 10 1/4 by 3 1/2 inch Zippered Compartment, two slide in 11 1/4 by 4 inch Compartments for Manuals and Personal papers, three elastic nylon holders for backup batteries, one holder loop for a pen, 7 1/4 inch Retractable Wrist carry Strap and insulated Holding Clips for the Atari Portfolio and one Peripheral. Overall case size zippered closed, 11 3/4 inches by 4 3/4 inches by 1 3/4 inches thick. (Shown Atari Portfolio and Portfolio accessories not supplied with system case) HPC-803 $39.95
Portfolio Parallel Interface Includes 3 1 / 2 and 5 1 / 4 inch disk versions of the Atari Portfolio File Transfer Program and 31 page Owner's Manual. Optional Parallel Printer cable (DB25 Male to Centronics 36 pin Male, CB101287) required for use with standard Parallel Printers, Optional DB25 Male to DB25 Male cable (HPC406) required for direct Parallel data transfer to a PC computer with a Parallel interface card installed. HPC-101 $59.95 Special Buy! Limited Supply $49.95
Portfolio Serial Interface with 19 page German Owner's Manual. The snap in Portfolio Serial Interface fully Implements the RS232-C Standard and will work with the Portfolio's built-in software (Baud rates: 110 to 9600, Parity: Odd - None, Data Bits: 7 - 8, Stop Bits: 1 - 2). The Serial Interface requires No separate Batteries or A.C. Adapters. Requires Optional DB9F to BD25M modem cable (CB102322) to connect to external Modem. HPC-102 $89.95
Portfolio PC Card Drive The Atari PC Card Drive will allow your IBM or PC compatible computer to access the Data / Files on your Portfolio memory cards (all sizes of Portfolio memory Cards) as if they were a conventional floppy disk but as fast as a Hard Drive. You can Read or Transfer Data from a Portfolio to your PC or Read / Transfer Data from your PC to the Portfolio and also Format Portfolio memory cards. Gives popular PC Spreadsheet, Database and Word Processing programs including Lotus 1-2-3, WordStar and dBase access to files created on you Atari Portfolio. Exchange data files between PCs and Portfolio at the office or in the filed. Uses standard PC MS-DOS commands. P.C. system requirements, an unused 8-bit expansion card slot, a 5 1/4 360K or 3 1/2 720K floppy disk drive and MS-DOS 2.0 or above, Comes with PC Internal Interface card, Atari PC Drive, Card Drive to PC Interface card cable, a 5 1/4 and 3 1/2 disk based drive software and format program and 26 page Owners Manual. HPC-301 $75.95
Portfolio PC Card Drive replacement PC 8 bit I/O plug in Card with 60 pin male connector. CB103040 $35.95
Portfolio PC Card Drive replacement Memory Card reader white interface box with 60 pin female connector. CB103041 $39.95
Portfolio PC Card Drive 26 page Owners Manual with 3 1/2 and 5 1/4 PC Card Drive software. CB103042 $12.95
Sebastian S. of Germany Sebastian ordered a new Atari Portfolio Serial interface from Best. "Today (Friday) I received the serial interface. :) Wow, what a superfast shipping and good packaging! Thank you very very much for this smooth & fast deal and the great customer service - my recommendations! Many greetings from Bavaria/Germany"
Tired of looking at your scratched up / damaged Atari Portfolio clear inner see thru plastic display window / cover (over the Portfolio LCD display)? This is one of those once in lifetime chance to get a Brand New replacement Atari Portfolio OEM Clear / Gray display Mylar Cover / Window for your 39 year old Atari Portfolio. Each new replacement Portfolio plastic see thru display cover comes with an adhesive backing (peal off the back temporary cover to expose the adhesive) and a temporary clear protective plastic over the front cover. Some Portfolio owners leave this front clear protective plastic sheet on, to protect the new Portfolio Window longer, some remove it to get a clearer Portfolio LCD display. CB102207 $19.95
Best's 39+ Year Atari Super Tech's Atari Portfolio tech tip on how to easily remove the old Portfolio Window without damaging the Portfolio inside gray plastic bezel. Heat up the old Atari Portfolio inner see thru display cover with a hair dryer (usually a medium heat setting), until it becomes very warm to hot to the touch (but not enough to start to distort the old cover / window / inside Portfolio plastic bezel), the from one of the four corners, start peal off old damaged / scratched Portfolio display window and just peal off the old window left to right or right to left.
Something most Portfolio owners do not know. When you remove the old Portfolio Window, you will see two small black case screws (in two recessed case holes in the inner plastic bezel) that hold the top / outside Portfolio plastic case to the inside plastic bezel / case. On most Portfolios you will see a third slotted silver screw head thru a small hole on the left of the inside Portfolio bezel near the speaker. On some early generation Atari Portfolio inner display gray plastic bezels, there is no adjustment hole over the Contrast adjustment screw on the LCD PCB board. This shinny metal slotted screw head is the Portfolio LCD Contrast Adjustment screw. Using a small slotted screwdriver, you adjust the contrast LCD display setting to a darker or lighter LCD display / letters. The more you adjust this screw, the letters on the Portfolio LCD will get darker blue color, but also the LCD back ground will go from a clear background display to a darker blue color. It is strongly advised, you make a one time display contrast setting change on your Portfolio. Because once you apply the New replacement Portfolio window, trying to repeal off the new Portfolio window a second time usually puts a memory in the bent up corner side of the new display window which will always never seem to sit flat the second time you try to flatten it down.
Atari Portfolio US Owners Manual. 85 pages. C300851 $18.95
Atari Portfolio French Version Owners Manual 303 Pages. C3000851-003 $24.00
Atari Portfolio US small (approx. 3 X 7 inches) laminated fold up 5 panel Quick Reference pocket guide,
covers some of the Portfolio basic commands / key strokes. This Atari Portfolio Quick reference guide
was supplied with all new Atari Portfolio's. C301017 $5.00
Portfolio 60 pin edge card mount Male connector. CB102637 $9.95
Portfolio 60 pin edge card mount Female connector. CB101937 $9.95
---
Power Adapters
Portfolio U.S. 110 Volt Power Supply HPC-401 $12.95
Portfolio 220 Volt German Power Supply Two round pin plug version 220 volt side. CB102732 $12.95
---
Portfolio Plug in 256K Memory Expander with pass through Portfolio buss connector. The Atari Portfolio Plug in 256K Memory Expander will Triple the memory on your Portfolio and adds a second Memory or Program Card Slot (Drive B:) at the same time. Features: Increases the Portfolio's Memory from 128K to 384K and increases the Maximum size of the RAM disk (C:) from 80K to 336K, Adds Enough extra memory for up to 132 pages of Text, Pass through Bus connector still allows you to connect Atari Parallel or Serial Interface peripherals, Second Memory Card Drive (B:) allows you to copy files from One Memory Card to another Memory Card-thus allowing you a safe way to replace aging batteries in your Memory Cards before they lose any valuable Data!, Pass through bus connector allows you to Connect a second Atari 256K Memory Expander to increase your Portfolio's total Memory to 640K and allows a 592K Memory RAM Disk. Installing or removing a Portfolio 256K Memory Expander into or out of your Portfolio requires a Complete Cold Boot of the Portfolio. So always back up all Data Portfolio's Memory information before installing or removing the 256K Memory Expander. Since the 256KMemory Expander re-quires no external power and gets its power to maintain the memory from the Portfolio itself, this Expander should Never be removed from the Portfolio or installed into the Portfolio with data in the Portfolio Memory or Expander Memory, in both cases it will require a Cold Boot (Erases the contents of the Portfolio's Memory-both RAM and Drive C) of the Portfolio before it will work again. In other words once the 256K memory Expander is installed and the Portfolio is configured to recognize the extra memory it is best to leave it installed or do a Complete Cold reboot of your Portfolio every time you install the 256K Memory Expander. HPC-104 $179.00 Special Buy!! $79.00
---
From the Portfolio Club of Germany an external Adapter card that allows you to use standard off the shelf PCMCIA Memory Cards from 256K to 14 Meg, Type I or Type II in your Portfolio. At this time you can only access up to 1 Meg total S-Ram memory total using the PCMCIA adapter. This Plug and Play Portfolio Adapter Card works with the Portfolio on board software and does Not require any Special device drivers to be installed, PCMCIA Memory cards that can be used with this Adapter Card are the 256K to 14 Meg SRAM type made by Mitsubishi, Fujitsu and other companies, Note on type II PCMCIA SRAM cards, the Low Battery signals are Not supported by the Portfolio, Note Flash cards, Mixed cards or other PCMCIA devices will Not work with this Adapter card. Once the PCMCIA SRAM cards are Formatted on the Portfolio (DOS 2,11) they should Only be used with the Portfolio because of different format arrangements used on Higher Revisions of DOS, This PCMCIA Adapter Card is designed to access up to 16 Megabytes of memory, Custom Device drivers to handle this extra memory access are currently being programmed for the Portfolio and should be available in the near future! You can also use this External PCMCIA adapter card with the Portfolio PC Card drive which can access more than 1 Megabyte. CB103017 Sold Out
Special Buy! Type 1, S-Ram 1 Meg PCMCIA Card for the Above Portfolio Upgrade. These Recycled 1 Meg S-Ram Cards are an excellent buy for the money. Think of it 1 Meg of Portfolio Total Drive Storage capacity for under $100 including the Portfolio PCMCIA adapter card! Also can be used with the Amstrad NC-100 laptop computer After selling the recycled PCMCIA cards to Amstrad NC-100 owners fall over the world for over 20+ years now, we are down to the very last small bag of them. All tested PCMCIA cards will have minor scratches / dings in the front and back painted surfaces of the PCMCIA card surfaces. CB103058 $15
Kin H. of the UK.
Kin ordered 3 of the 1 Meg recycled PCMCIA S-Ram Cards from Best. "Just wanted to say thank you for the prompt delivery of my order. These cards are great!"
N. Gabriel of Romania Gabriel purchased 2 of Best recycled 1 MB PCMCIA cards for use with the Atari Portfolio (with adapter card) and his NC-100 Laptop. "Also good news, I've just formatted the two cards on my NC-100 and they are fine :) The price and the service is unbeatable! Well, now I have to search a Portfolio PCMCIA adapter. Thank you and best regards!"
---
Software
Portfolio File Manger Memory Card / Program. The File Manger program acts as a DOS shell, providing a simpler way to run Portfolio Applications and Speed the use of your Files, Directories and Disks. With File Manager installed, you can Select Options from Menus instead of entering the DOS commands. File Manger will also let you run the following Portfolio functions from menus: Select a different Disk Drive, Create a Directory, Check the current Disk Status, Format a Memory Card, Label the current Disk and Change the Date and Time. File Manger Program comes with DOS Utilities Pocket Users Instruction manual (English), no box! HPC-704 $19.95
Portfolio DOS Utilities Pocket Users Manual only, English version. This Manual covers the File Manger program (Memory card) and the 20 Portfolio DOS Commands to enhance your Portfolio use. Chapters covered, Introduction, File Manager and DOS Commands with Appendixes: Syntax Summary, ANSI.SYS Escape sequences, Error Messages 110 pgs. C398247 $10.00
PORTFOLIO FINANCE CARD The Atari Portfolio Finance Card is an advanced Financial Calculator Program that helps you quickly and easily perform a wide range of Business and Statistical Computations, Including: Determining Compound Interest on Loans and Saving including Tax implications, Generate Loan Amortization Schedules to find the relative amount of Capital and Interest payments for any period, Calculate Loans and Investments between specific dates. Compute future investment returns as well as future installments on variable payment loans, Convert monthly interest rates and nominal yearly rates to annual percentages rates (APR), Calculate the Interest rate on a lease, then compare the leasing terms to the interest rate on your credit card or loan to decide which financing plan is better for you, Determine the Internal Rate of Return (IRR) to find out the interest rate at which a venture will make a profit, Figure the Net Present Value (NPV) and the number of periods to payback at a given interest rate, Calculate straight-line, sum of years digits, or declining balance depreciation to determine the value of a specific asset, Breakeven analysis uses sales and costs to determine pricing and volume strategies, Sort-analyze and graph two sets of data to prepare Statistical forecasts, Forecast with liner regression fitting without use of complicated formulas. The Atari Portfolio Finance Card will also let you Graph and Print the results of most calculation, or use the results with the Portfolio's built-in calculator and worksheet. Finance Card with 59 page user's manual. HPC-702 $29.95
PORTFOLIO POWER BASIC Portfolio PowerBasic is the first structured, High Level programming language for your Portfolio. With PowerBasic you can harness the power of your Portfolio by creating applications tailored to your personal needs. Just some of the Features of Atari PowerBasic: You can use the Portfolio's built-in Test Editor to write your application programs or import them from your desktop P.C. PowerBasic can COMPILE! pro-grams in either .COM or .RUN for-mats, PowerBasic Programs perform 4 to 100 times the speed of an interpreted Basic program, PowerBasic sup-ports a full complement of Rational and Logical operators, Create Portfolio programs that feature graphics and Text at the same time, Features Floating Point Arithmetic that con-forms to IEEE standards and Features Dynamic Strings and Comprehensive Data File Manipulation in either Sequential, Random-access or Binary Modes. HPC-705 $36.95 New PowerBasic Card only, no manual, no box. HPC-705-LM $25.00
PORTFOLIO INSTANT SPELL (English Version only) The Portfolio Instant Speller card is a Spelling checker and Personal Dictionary that prompts you with alternatives to misspelled words. It checks for specific words or work with the Portfolio's built-in Test Editor to examine an en-tire document. You can Create your own dictionary and use Instant Speller's built-in general dictionary, as well. Install Speller features: Allows you to enter information in a hurry and check the spelling later, 100,000 Word General Dictionary, 5,000 word User specific Dictionary, Store proper names-Technical Terms or Foreign Words and phrases, Loads with just two keystrokes and become part of your Portfolio's Text Editor. Instant Speller card with 13 page Users Manual. HPC-709 $29.95
---
Accessories
Portfolio / Roland 32K Ram card. Ltd. Supply HPC-201. Sold Out
Portfolio 64K Ram card. LTD Supply HPC-202. Also fits Korg A3 Guitar Processor, Korg A1 / A2 / A3 FX Effects Processors and M1, M3R WAVESTATION, T Series 707, DS-8 & Waldorf Microwave Synthesizers $64.95 Sale $34.95
Atari/Roland/Korg Portfolio 64K Memory RAM Disk Card NEW in box. Only 4 left 8 sold on 10-26-17, 5 available 13 sold on 09-23-18 This same E-bay seller is selling the same New Portfolio 64K Ram card on another E-Bay auction for less money and states Only 4 left 60 sold Seller does not offer returns Current 21 day E-Bay auction as of 09-23-17. Buy it now for $45 plus $8.70 shipping
Portfolio 128K Ram card. LTD Supply HPC-203. $199.95 Special Sale! $75
Atari Portfolio Ram Card Tech Tip: Remember that all Atari made Portfolio Ram Cards (32K, 64K and 128K) have an internal very thin lithium CR2016 coin battery (they can be accessed / removed on one end of Portfolio Ram Card that hangs outside of the Portfolio case, the internal small crescent shaped black plastic coin battery holder, sometimes have a very very small sliding locking tab on the end of the Portfolio ram card edge to lock the battery holder into the ram card) to keep voltage on the Portfolio Ram chips when the card is not inserted into the Atari Portfolio PDA. These lithium coin batteries are have a fixed life cycle (typical 1 to 3+ years of use / Portfolio Ram storage time, depending if the Portfolio ram card is left in a running / power up Portfolio all of them time or stored outside of the Portfolio) when used in an Atari Portfolio Ram Card. Never replace the old Coin battery inside the Portfolio Ram Card when the Portfolio Ram card is NOT inserted into a power up Portfolio PDA or other powered up device that uses these Portfolio Ram cards. There is a very good chance you will loose all of the stored Portfolio data on that Portfolio ram card if you don't. Only replace the old dying Portfolio Ram Card battery when you have it fully inserted into a running / power up Portfolio or other device that uses these battery backed up ram cards and make sure you can access any Portfolio data stored on that Ram card 1st. This way the running Portfolio or other power up device will supply voltage to the inserted Portfolio Ram card, to keep the Portfolio ram chips voltage up, while you changing out the old dying 2016 battery.
Also another good Atari Portfolio Tech Tip: A good idea after inserting in a new fresh Portfolio CR2016 lithium coin battery into a Portfolio Ram Card (using the replacement new battery technique above) is to double check the exact voltage (with a VOM meter) left on the CR2016 Coin battery about 6 months to a year later after you have changed out Portfolio Ram card batteries. This will give you a rough idea when you should do the next Portfolio Ram Card new battery swap out. You should not let your Portfolio Ram Card batteries drop below 2.50 volts, below this amount of volts you will start to loose memory storage / data on your stored Atari Portfolio Ram cards. Use the small Portfolio labels that are provided with each new Atari Portfolio Ram Card to mark the date you installed a new CR2016 Colin battery and the next date when a new fresh CR2016 Coin battery should be installed in your Portfolio Ram Card and apply this small label to the Portfolio Ram Card.
Portfolio High-Capacity Ram Card This 3rd party developed Portfolio Ram card actually has three 128K Ram cards (Chips) built into one plug Ram card. Each 128 Ram bank is selected via a small Dip switch and the Portfolio is then rebooted! Like the Atari Portfolio Ram Cards, this bank selecting Ram card has a Battery back up. Each Ram card is a PC board with the three mounted RAM chip covered with clear protective covering (no case). CB102710 $175.00
Portfolio Keyboard Clear Protector / Overlay This clear flexible skin covers the actual keys of the Portfolio keyboard and has a 1/4 inch over lap with adhesive strips around the left, right and bottom sides of the Portfolio keyboard bottom case. You can see and type thru it this flexible protective cover! Used to protect your Portfolio keyboard from Harsh Environments where dirty fingers, dust, liquids, metals and other small items could fall into your keyboard and damage it. If you plan to leave the clear protective covering on your Portfolio all of the time, you will have to cut two small rectangular slots in the clear cover for the LCD side locking latches. See picture of MegaSTE keyboard Clear Keyboard Protective cover. CB102815 $19.95
Portfolio Keyboard Assembly Top half of bottom plastic case with Portfolio Silicone Custom Keyboard pad, QWERTY plastic keys, keyboard metal backing with screws, Less keyboard Mylar. CB102204 $42.95
Portfolio Sugiyama Keyboard Type replacement Mylar (FKJ0102). Fits all World Wide versions (QWERTY, QWERTZ, AZERTY) of the Atari Portfolio. This Best Electronics Manufactured replacement Keyboard Mylar is an Improved version over the stock Atari keyboard Mylar! Each Best replacement Mylar has a thin dielectric Protective coating over the complete Mylar except the conductive key contact pads. This conductive coating gives your replacement Best Mylar the Best Resistance to flexure cracks on Silk screened traces and prevents internal keyboard Mylar supports from wearing or rubbing away traces. Its also prevents tiny objects that drop through the Keyboard from wearing or shorting out keyboard traces. CB101905 $32.95
Portfolio 512K EPROM Burner Adapter board This special Atari designed Adapter board, allows you to insert a standard Atari made 512K One Time Programmable BEE ROM card into this Adapter board and then insert this Adapter assembly into a Standard Commercial EPROM Burner and Program your own Atari ROM Cards. You can Compile your own Custom programs using the Atari Power Basic Compiler and then program your own Custom ROM Portfolio Software programs. Adapter board with Portfolio ROM connector and Gold plated 24 pin male Dip Header. HPC501 $89.95
Portfolio 1 MEG one time Programmable Eprom card. If you have developed an Atari Portfolio Game / Program / Application for the Portfolio, you can burn that Portfolio application to a 1 meg Atari Portfolio one time program 1 Meg Bee card and it is saved for ever with no coin type of back up battery ever required to retain the Portfolio data on the Atari 1 Meg Bee card after it is programmed up. From there all you need is a Portfolio card label, manual and box an you are in the Atari Portfolio software business. Required above Atari made 1 Meg EPROM Burner Adapter Board and a 1 meg Eprom burner. HPC-205 $29.95 Qty discounts available for Portfolio software developers.
Portfolio Serial Interface to Mac, Null Modem Cable Molded 8 pin male mini din to molded DB9 Female Cable Assembly, 6 foot long. This null modem cable will allow you to directly transfer your Portfolio ASCII files to your Mac. CB10286 $29.95
Portfolio Upgrade Manual This Upgrade Manual was written in Germany by Stefan Kachele and translated into English by W. Holl. This upgrade manual has three Different hardware upgrades for the Atari Portfolio! 1. Three different Internal memory upgrades (With schematics) 224K, 320K or 512K of Internal Ram. 2. Increasing the Clock speed of the Portfolio from 4.9MHz to 6.5MHz, up to 33% faster performance. 3. Increasing the low battery warning time from 10 -15 minutes to change the batteries to 48+ hours before the batteries are drained and the data is lost. It may be necessary to install a second internal reset switch if you require a complete Portfolio cold reboot in the future once this Upgrade is done. 4. Using the Portfolio parallel port with PBASIC as an I/O Interface. These upgrades should only be attempted by an Experienced Electronic Technician with a good background in SMT type practical experience!! CB102428 $27.00 Contact us for Our recommended Qualified Atari SMT Technicians!
Portfolio Parts Kit 1 For the above upgrade, includes the components for Increasing the Portfolios Clock speed and Extending the low battery warning time. Parts kit includes the two required SMT Capacitors, the one recommended upgrade crystal (works on all Portfolios) and two optional crystals that may speed up your Portfolio even more, but optional crystals may not work in all Portfolios. CB102482 $10.00
Portfolio Parts Kit II For the above upgrade, includes the components for three upgrades, All of the SMT Ram chips for the 224K, 320K, or 512K memory upgrades, the one recommended upgrade crystal (works on all Portfolios) and two optional crystals that may speed up your Portfolio even more, and the two SMT Capacitors for increasing the battery warning time. CB102511 $39.50
Portfolio Technical Reference Guide The Portfolio Technical Reference Guide describes the Portfolio technology in detail and provides the necessary information for a third party to develop hardware and software applications for the Portfolio. Chapters covered, Technical Overview of the Portfolio, Hardware which includes System Description-System Memory-Memory Cards-Custom ASIC chip-Power Supply-Portfolio Expansion Port-Peripheral Design Issues-LCD Display, Software-General Description -Differences Between Portfolio BIOS and IBM PC BIOS-Systems Specific BIOS-Deference's Between MS-DOS and Portfolio DOS-Device Drivers and Peripheral Software-Memory Cards-Screen Handling-Power Management-Special File Formats- IBM PC Development System, Peripherals-Portfolio Serial Communications-Smart Parallel Interface File Transfer Protocol Description - IBM PC Card Drive-EPROM Writer Adapter Boards, Appendixes-Example .RUN Program (Machine code)-Diagram of Portfolio Character Set Example Peripheral Design. Also included are repair Schematics for the Portfolio Serial and Parallel interfaces. 84 page Manual with Atari Portfolio 5 1/4 disk Emulator Software. CB102211 $99.00
External PCMCIA memory card adapter for the Atari Portfolio. This PCMCIA adapter will allow you to use Larger Memory cards (256K to 1 Meg) than the stock Atari Portfolio ones. The larger Portfolio formatted PCMCIA Memory cards are Plug and Play (no extra software drivers required) compatible with all stock Portfolio programs. These PCMCIA series of Memory cards are the same type used on PC Laptops for sorting data. CB103017
Sold Out
Special Buy! Type 1, S-Ram 1 Meg PCMCIA Card (Red and Black card) for the Above Portfolio PCMCIA adapter. These Recycled 1 Meg S-Ram Cards are an excellent buy for the money. Think of it 1 Meg of Portfolio Total Drive Storage capacity for under $100 including the Portfolio PCMCIA adapter card! After that, 1 Meg of Portfolio drive Storage for only $15!! Will also work on the NC-100 Laptop computer. After selling the recycled PCMCIA cards to Amstrad NC-100 owners fall over the world for over 20+ years now, we are down to the very last small bag of them. All tested PCMCIA cards will have minor scratches / dings in the front and back painted sides of the PCMCIA card surfaces. CB103058 $15
---
Diagnostics
Portfolio 7 "C" and 3 "B" Size Schematic Set (10)Covers the Portfolios CPU Circuit, O/S and Ram Circuit, LCD Circuit and includes 4 Exploded Assembly views.CB102964 $45.00
Portfolio Parallel Interface "C" Size Schematic (1)CB102967 $25.00
Portfolio Serial Interface "C" Size Schematic (1)CB102968 $25.00
Portfolio 256K Memory Expander "C" Size Schematics (3) CB102969 $30.00
Portfolio Populated Mother Board With English, French and German version OS. CB102512 $135.00
Portfolio Daughter Power P.C. Board With Power Jack, battery terminal, reset button and white ribbon cable. CB102733 $36.00
The Atari Portfolio Expansion Port Diagnostic plug in Buss board. This large 8 X 4 5/16 inch plug in board comes with its on board Atari Diagnostic ROM software and also has 8 Red and 8 Yellow indicating LEDs for the status of different Portfolio buss lines (Rev. 6 Printed Circuit board). First Diagnostic Menu includes the following selections: #1 Final Goods (Runs sequential tests) sub menu: 1-Auto run tests 2-CPU board 3-LCD board, #2 CPU board sub menu: 1-Auto 2-System 3-Video Ram 4-Ram Disk 5-CCD (Plug in Ram Card test) 6-Keyboard lines, #3 LCD board sub menu: 1-Auto 2-Checker board 3-Rectangle 4-All pixels 5-All Characters 6-Contrast 7-Speaker, #4 Keyboard tests sub menu: 1-Lines 2-English 3-Germany 4-French. The other Diagnostic mode for this Portfolio Diagnostic board will still test a Portfolio even if it does not have a working LCD screen. Once plugged in the LED's light up to give you the Diagnostic results. Other end of this Portfolio Diagnostic card has a place for a right angle Portfolio Memory card connector (not supplied) or a 32 pin Mini I/O connector for pass through and other Portfolio possibilities. This Atari Portfolio Diagnostic plug in card Was Never Even released to the Atari Service Centers! Great for the Atari Portfolio repair Technician and a useful tool for the Portfolio Developers and Owners. Check out the Status of your own Atari Portfolio, have fun discovering other features of the Portfolio you did not know about and possibly develop new products off the pass through end of this Diagnostic Card. Atari Portfolio Diagnostic card with 11 page test procedures. CB102532 $49.95*
*A One Meg Portfolio Ram Card Is required for the above CCD (Plug in RAM CARD Read and Write Tests) Bare, Unpopulated Portfolio Rev. 4, Diagnostic board KitAn earlier of the above Portfolio Diagnostic plug in card (uses but Not supplied) the same OS ROM as above Rev. 6 card). Comes with a loose 60 pin Female Portfolio edge card connector, blank P.C. board and 4 "A" size prints. CB102606 $25.00
Portfolio Dummy battery substitute and current tester (Requires an optional Volt/Ohm meter). This Diagnostic tool was designed for the Atari Portfolio Service centers, so they could apply a 4.5 DC external power source through the battery storage area for continuous burn in testing of repaired Portfolios and to check the current use (internal) and out- put of the external Portfolio power supplies. There are three white plastic covered brass rods that are the same size of "AA" size batteries. One of these plastic Dummy batteries has two 17 inch black and red leads with covered alligator clips coming out of the side of the battery. All you have to do is to insert these three dummy batteries into the Portfolio, inserting the last dummy battery with the leads in last and attach the leads coming out of the Portfolio Battery compartment to an external 4.5 D.C. power source. This same dummy battery substitute can be used on any product that requires 1 to 3 "AA" size batteries and does not have an external power jack for wall adapters. Also includes information on the Portfolio Current tests and specifications! CB102638 $10.00
---
Add Best Electronics All Atari Web site to your Internet Explorer Favorites folder.
Copyright © 2002 CompanyLongName
Best Electronics in the Atari business since February 1, 1984.
This page Last modified: February 05, 2023
Phone: 408-278-1070 (1:30 - 5 PM, PST, M - F)
Current Pacific Standard Time is:
Via E-Mail:
bestelec@bestelec.digitalspacemail8.net