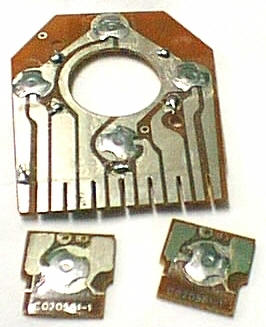 What seems to be ages ago, we ran out of the Atari CO20561 / CO20192 Fire button PCB's. Well after hundreds and hundreds of World Wide requests, the Atari CX24/CX22 Fire button PCB's are back in good supply. CO20561/CO20192 Fire button PCB's $2.50 each.
Shown above the CX24 Fire button PCB's, the Atari CX24 Joystick X-Y replacement PCB board CB101239 $2.50 each.
---
Special Buy! Limited Supply
The Pro-Stick Joystick is like a standard CX40 Joystick but with a Red Base/Black Top, Red Joystick boot, Left or Right side dual Red Fire buttons on the base (for Left or Right handed People), Molded Plastic Handle Grip with Top Fire button too and Joystick cable comes out of the center bottom of the Pro-Stick!
CB103045 $7.95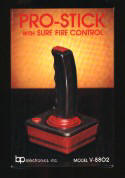 ---
Best Electronics Latest and Hottest 33.33X Upgrade to an Atari 23+ Year old Atari CX40 Joystick Internal Design!
Best recently sold out of the Stock Atari made CX40 Joystick internal Printed Circuit Boards (PCB) we acquired from the Local Atari Sunnyvale Warehouses when we bought out the Atari parts division.
<![if !vml]>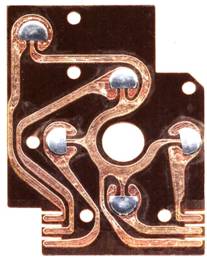 <![endif]><! <![if !vml]>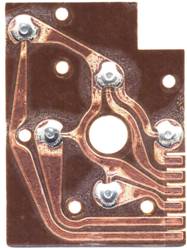 <![endif]><!
Over the years Atari used several Styles / Shapes of this Internal Atari CX40 PCB board (all of then completely interchangeable on the Second generation Atari CX40 Joystick) with many different styles of metal Dome contact internal switches and different types of plating on the internal Circuit Traces from Tin, Nickel to Copper.
"Your company name is truly fitting. I installed a set of your gold contact circuit boards in a pair of CX40 joysticks. They're fantastic! These boards are the best thing to happen to the 2600 since the creation of the console itself! I couldn't be happier with my joysticks now. They're better than new! Thanks for making such a great product!" Kevin M. of OH
"All I can say is WOW - - I installed the Upgraded Gold CX40 Internal PCB in a classic Atari CX40 joystick last night, and immediately after testing it, went and took apart two other joysticks that worked fine, JUST to replace the boards with these AMAZING upgrades! I typically prefer the 'EPYX 500 XJ' joysticks, because of their tactile feel and 'click' that they provide, but with these Upgraded Gold CX40 Internal PCBs, you can actually FEEL the 'click' and hear each motion of the joystick in a very satisfying and precise manner! All of my CX40 joystick rebuilds from now on will be using these Upgraded Gold CX40 Internal PCBs!" James A. of CO
Rodrigo ordered some Atari CX40 Joystick new Fire buttons, new CX40 Rubber boot and Best exclusive Atari CX40 Joystick Improved / Upgraded Rebuild kits with the Bests CX40 Gold Lifetime PCB board. "Last night I installed the new parts on my old joysticks. The upgrade is remarkable: the "mushy" feeling when pulling the lever and pressing the button disappeared! I have precision again and I love the "clicky" feeling of the new gold boards. I feel my joysticks like new again! Thanks!" Rodrigo G. of Brazil

All of the years Best has been in the Atari parts business, we have seen at least 6 to 8 different Atari CX40 PCB boards made by different Atari parts Manufactures / Suppliers. All of them are known to have different Failure rates and type of Failures.
Just some of the different type of CX40 Internal PCB board failures we have seen over the last 29 years:
· Dome Contacts flipping inside out (failing clear tape cover).
· Dome Contact fatigue failure (flatting out).
· Dome Contact no longer making proper contact with mating PCB circuit trace.
· Dome Contacts Shifting their location under the clear tape cover on the PCB boards (failing clear tape cover).
· Failure (holes /openings / tares) of the clear plastic cover tape over the dome contacts allowing the contacts to shift positions.
· Cracking / Breaking of the Phenolic base material the CX40 PCBs are made of.
· Corrosion on the Copper and Tin Traces under the Dome Contacts.
· Foreign Materials under the Dome Contacts (failing clear tape cover).
· Moisture under the Dome Contacts (failing clear tape cover).
One or more of these problems on an Atari CX40 Joystick Internal PCB board would mean a failure of an Atari CX40 Joystick prematurely.
Using the same Engineering attitude (make a State of the Art Upgraded Replacement part using State of the Art Materials, State of the Art Manufacturing Techniques and New Tooling) that Best Electronics used on the 5200 Gold CX52 Joystick Upgrade Project, we knew we could produce an Improved / Upgraded Atari CX40 Internal PCB board. Every 5200 owner who Now owns one of these Best Exclusive Lifetime Gold Upgraded Joysticks will tell you, that the Best CX52 Gold Joystick upgrade Cured the 20+ year problems that have always existed with the Old Atari made CX52 Joysticks.
As part of our initial research for this Best CX40 PCB upgrade board project, we contacted one of our Oldest Quality Atari parts suppliers we have been using for 15+ years now and had them run some Life cycle Tests on the Old Design (1981) Atari CX40 Internal PCB board. In the Industry it is know as Mean Time Between Failures (MTF) or basically how many cycles a part would run before it failed.
"The new PCBs are astonishing. I have no regrets about upgrading to this new PCB. It is superior in every way over the original." Jeff P. of VA
We had our Manufacture run a MTF Test on what Best Electronics considered one of the better 1981 designs of Atari PCB boards (pictured above) we have sold over the years. Their Tests showed that this Atari 1981 designed New replacement CX40 PCB board, only ran about 150,000 cycles before it Failed. The original Atari 1981 Engineering Specification on this version Atari CX40 PCB board, called for minimum MTF of 1,000,000 cycles.
The Best New State of the Art New Upgraded replacement Atari CX40 PCB boards, have New Upgraded Glass Epoxy Stronger PCB board base Material, New 100% Hard Gold Plated Circuit Traces with approximately 55% larger Gold trace contact surface area under the dome contact,
Close up view of the Atari stock CX40 PCB board dome Contact fire button trace and the Best CX40 Gold platted larger PCB Fire button trace.
Atari CX40 Copper Fire button Trace New Best Gold plated larger contract area CX40 Fire button Trace
larger Internal contact surface area on inside of the Gold Plated 4 leg Dome Contacts (4 Leg Dome contacts are Hard Gold Plated on the inside of the dome contact surface area and Stainless Steel base material on the Outside surface) and State of the Art 3M Scotch Brand Hi Performance Clear Polyester film (2 Layers) covering with escape air channels around the Gold dome contacts. This means each improved larger Gold plated Best CX40 Doom contact sits in a ridge plastic square cavity with sides (locking down the side to side and top to bottom movement of the doom contact) on the CX40 PCB with a second 3M Clear cover over the improved doom contact. This prevents / ends the old Atari CX40 PCB problem of the Doom contacts walking around the CX40 PCB (causing a CX40 failure) when the old Atari CX40 clear adhesive cover started to fail. The air chamber relief channels around each Gold Plated doom cavity prevents the new 3M top Clear cover from bubbling up and failing (like on the old Atari CX40 PCB design) when each contact is pressed down due to increased internal air pressure.
Our Manufacture conservatively Rates this New State of the Art CX40 Upgraded Best replacement PCB board at 5,000,000 cycles MTF or approximately a 33.33X increase in real world MTF cycles compared to the above 1981 Atari designed CX40 PCB board that was tested and prematurely failed.
New Best Gold CX40 PCB board!
Essentially the New Best Gold CX40 PCB board should be a lifetime version CX40 Joystick PCB board. The Atari CX40 internal handle will fail before this New 2005 Designed State of the Art Best CX40 Gold PCB board.
Over the years Atari used many different style of Dome contacts on the old CX40 PCB boards. Round with top dimple, Round without top dimple, ¾ round / D shape, several different styles of 3 Leg Round Dome Contacts with different top dimples sizes, were just some of the different types of Dome contacts used. Many of these Dome contacts had a Tactical Feed back (click sound) when they were activated and some were completely Silent when you used the Atari CX40 Fire button and Joystick handle functions.
"The upgraded 2600 controller insert and gold pcbs are great, using them I got my best score in River Raid in over 20 years!" Ryan A. of FL
Our research on different dome contacts found that the ones with a top dimple were quieter when used inside an Atari CX40 Joystick, but they actually had less internal contact surface between the inside of the dome contact (because of the small square surface area of the extended small dimple) and small circuit trace under the dome contact,
Close up, underside view of Dome Contacts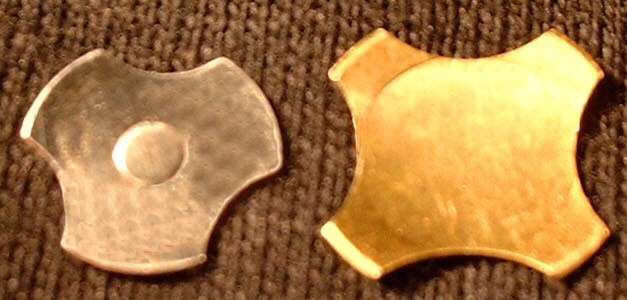 Old Atari 3 leg Dome contact Best larger Gold plated 4 leg contact
which would mean they would fail sooner. Best choose to go with a larger Smooth 4 leg Gold Plated Dome contact to Maximize the contact surface between the inside of the dome contact and the Newly increased larger surface area on the mating Gold plated PCB trace under the dome contact.
The New State of the Art Best Upgraded CX40 Gold PCB with Gold Plated 4 leg dome contacts, have a Good Tactical feed back feel (Louder click compared to the original Atari CX40 joystick PCBs) on the Atari CX40 Fire button and Very light Tactical feed back on the Atari CX40 handle action.
The Original 1981 Atari Engineering Specification called for a Maximum (Dome / Trace) contact resistance of 150 Ohms or less on the CX40 PCB boards. The New Best Gold CX40 PCB boards have contact resistance less than 2 Ohms!
Joe C. of AZ "The upgraded Cx-40 PCBs are excellent. I'll begin reordering these in larger quantities"
Another built in Upgrade on the New Best CX40 Gold PCB board, is the internal Atari CX40 Wiring sequence Color Codes are now etched into each connecting tab. So you will never have to look up the CX40 Color Code wiring sequence and never make a mistake and wire up a rebuilt Atari CX40 Joystick wrong.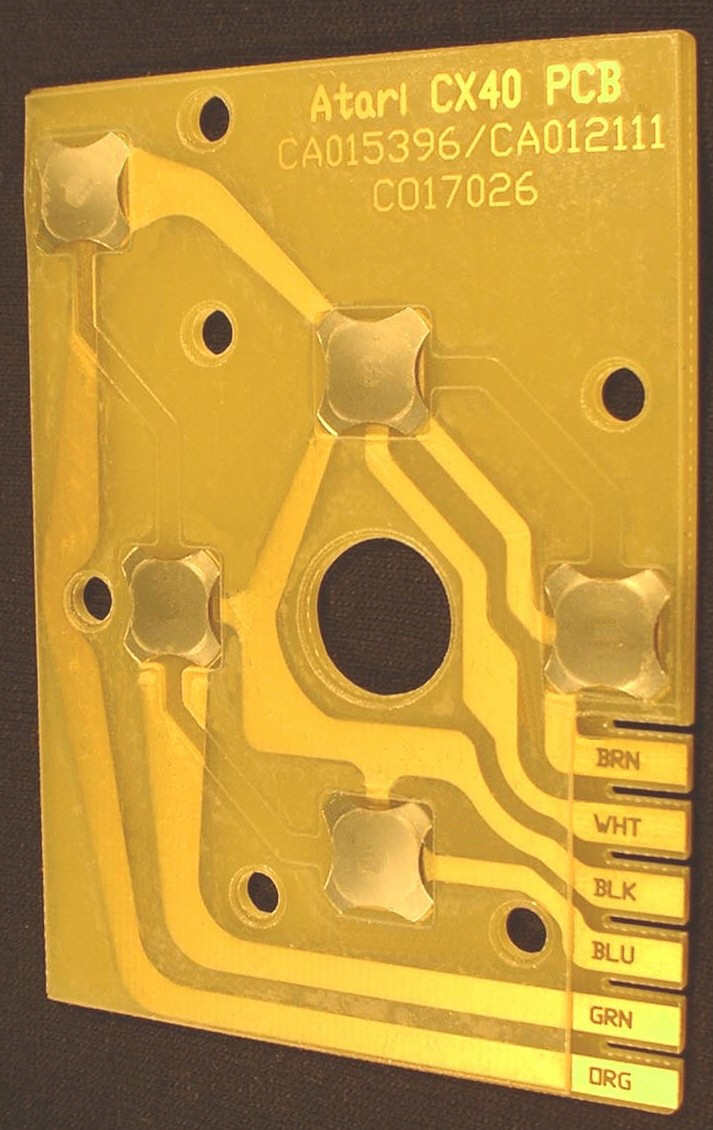 Atari CX40 rebuild Information Tip. Every two or three hundred CX40 Gold Rebuild kits with the Best Gold CX40 board and upgraded Atari CX40 improved center handle we send out, one Atari user will contact us and say, I just rebuilt 10 old Atari CX40 Joysticks with your Gold CX40 rebuild kits. 7 of the rebuilt CX40 Gold Joysticks work better than new now, but 3 of them have fire button problems. I have checked the CX40 cable and not found any problems with it. Help!!!
There are basically three problems that can cause this CX40 Fire button problem on the new Best CX40 Gold PCB. A bad CX40 cable is one of them. The most common problem is the end of the CX40 orange fire button inner stud (the fire button stud that presses on the top of the Gold plated dome contact) is mushroomed (only a couple of thousands of an inch) over from repeated hard pressing on the old fire button on a failing Atari made CX40 PCB. You can usually verify this condition by taking apart your CX40 Joystick with the Gold CX40 kit in it and removing the CX40 plastic top and manually pressing on the fire button PCB dome contact and you will find the fire button works fine. The Best enhanced version CX40 Gold PCB has a new upgrade feature that if you do have a mushroomed over fire button stud, you may have a fire button problem. The Best new CX40 PCB has a couple of thousands of inch thick plastic sheet / barrier on the top of the Gold PCB board that has 5 cavities in it, that each Gold plated dome contact sets in. This new feature on the Best Gold version PCB prevents the dome contacts from walking around the PCB board (like the old CX40 PCB Atari dome contacts did as the clear top adhesive cover tape would start to fail). So the combination of a old Atari CX40 Fire button with a mushroomed over center plastic stud and the new Best Gold PCB with the couple of thousands thick dome matrix plastic sheet on top, prevents the old mushroomed Atari fire button center stud from fully pushing down the Gold dome contact the last couple of thousands of an inch to make full contact with the Gold CX40 PCB fire button trace.
Old Atari Tech tip. You can check for this mushrooming over CX40 fire button plastic stud problem before you order a Best CX40 Gold Rebuild kit(s), by taking your old CX40 fire button out of the CX40 Joystick(s) you are going to rebuild and look across the bottom edge / ring (the end closest to the CX40 PCB board) of the old orange fire button from a side view. The center Orange fire button center plastic stud with a tit / bump on the end, should sit a couple of thousands of inch above the bottom lip of the orange fire button. If this small orange tit / bump is even or below the orange fire button bottom lip (as viewed from a side view), it should be replaced. If you eyes are not that good, use a flat / straight piece of metal (like a knife or metal ruler) and lay it across the bottom of the Atari CX40 fire button and next to the fire button center stud. Again check the CX40 fire button from a side view and see if you can see the tit / bump on the end of the CX40 fire button center stud above the bottom edge (just a couple thousands of an inch) of the metal piece you put across the CX40 fire button diameter, it is a good CX40 fire button.
If you discovered this Atari CX40 Fire button problem after you received your CX40 Gold Rebuild kits, there is a quick and easy fix. Just tape a small spacer or round dot (a couple of thousands of an inch thick, like a couple of layers of masking tape) on the center top of the fire button dome contact only and put the CX40 Joystick back together. In the long run, a new orange fire button will cure this problem
The third reason why your rebuilt Gold CX40 Fire button may not work, is the black plastic support stud (that sits under the Gold PCB fire button section and supports the CX40 PCB fire button section) on the bottom Atari CX40 black Case has been mashed down a couple of thousands of an inch (usually can not see this problem) from heavy fire button pressure on the old failing Atari CX40 PCBs before rebuilding. The easy way to fix this CX40 bottom case problem is again put / tape a small spacer on the bottom side of the Best Gold CX40 PCB under fire button dome contact section to raise it up a couple of thousands of an inch.
Because of the High Cost of the New PCB Tooling, New State of the Art Upgraded Materials and Cost for the first 2005 production run of these New State of the Art Gold Atari CX40 PCB boards, Best Electronics will require the following Minimum orders for these New Atari Gold CX40 internal PCB boards and upgraded CX40 Rebuild kits.
Best Upgraded Gold CX40 Internal PCB CO121110G $6.50 each (Minimum 3 Qty per order)
Atari CX40 Rebuild Kit with Atari CX40 Handle and Best Gold CX40 PCB Board CB101211UG $9.95 each (Minimum 2 Kits per order)
Also See Atari CX40 Joysticks upgraded with the New Best CX40 Internal Upgrade!
---
Add Best Electronics All Atari Web site to your Internet Explorer Favorites folder.
Copyright © 2002 Best Electronics
Best Electronics in the Atari business since February 1, 1984.
This page Last modified: August 25, 2013
Phone: 408-278-1070 (1:30 - 5 PM, PST, M - F)
Current Pacific Standard Time is:
E-Mail:
bestelec@concentric.net