State of the Art, Atari Joystick for the Older Atari Systems!
Using Best's custom made Jaguar Power pad Joystick adapter with built in custom interface circuits, you can Now use the Comfortable State of the Art Atari 2 handed Jaguar Power Pad on your older Atari Systems (2600, 400, 800, 800XL, 65XE, 130XE, 1200XL, XE Game, ST, STE, MegaSTE, TT, Falcon, except Atari 5200 systems). Read the Independent Review on the Best Jaguar Adapter cable and Jaguar Power Pad by John Hardie of the Atari Gaming Headquarters Web Site. Atari's Jaguar Power pad design was way ahead of its time and has been cloned and copied by the many current PC style controllers/joystick manufactures. Atari Engineering, designed the Jaguar Power pad with a 5 year MTBF (Mean Time Between Failures) typical service life. CB102993 $16.95 Best Jaguar Power Pad adapter with a New Jaguar Power Pad combo Special CB102816 $26.95
Benjamin H. of TX Benjamin got one of Best Atari new Jaguar Power pad and adapter cable to other Atari systems Combo special. "For anybody who prefers a joypad style controller for playing Atari, it really doesn't get any better than the slick and ergonomic Atari Jaguar controller pad from the 1990's. I haven't played a Jaguar since 1998, so I had completely forgot how comfortable the Atari Jaguar pad feels in adult hands. The pad moves extremely smoothly and the buttons offer a nice solid feel. I was able to achieve much higher scores on Pitfall II and Keystone Kapers using the Jag pad, and it feels as solid and as comfortable as it always did back in the 90's. Awesome build quality on the adapter cable as well, so glad to be able to use a great joypad-style controller for when a particular Atari game calls for it!"
---
Using your Jaguar pad with the 2600 / 7800 / 8-BIT / ST / TT Systems
Review by: John Hardie, Atari Explorer On Line Staff Writer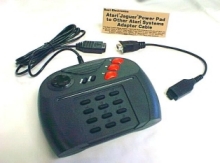 Imagine my surprise a few weeks ago when a friend mentioned that he had heard about a cable that will let you use an Atari Jaguar Controller on any of the other Atari Game/Computer Systems (except for the 5200). I called the manufacturer, Best Electronics, and ordered one promptly. It arrived a few days later and I set forth to put the cable through its paces.
I admit I was a little skeptical at first, but this is one high-quality, professionally made piece of equipment. The molded cable is expertly produced and houses all the Electronics needed inside. This is NOT some hack job! I tested this cable thoroughly with the 2600,7800,8-bit, and ST systems and it Performed spectacularly. Basically, you have use of the Directional Joypad and the "B" (fire) Button. ST/TT users also have access to the "A" Button which is the equivalent of the right mouse button. The cable does have some trouble with a couple of 7800 games due to the way the 7800 is set up to read 2 joystick buttons, but most Operate Flawlessly. In the course of my testing, I tried a random sampling of games on the 2600. Everything from Space Invaders to Crazy Climber worked Perfectly. The ST games also handled Well. My real treat though, came from using the cable with my Atari 800XL computer. Being a big 8-bit Gamer/Collector, the true test for me would be playing the Classics on my XL. Imagine playing Miner 2049er or Bounty Bob strikes Back with the Jaguar Pad. Easy, fluid control of the characters is achieved effortlessly. All the Classics were a Joy to Play. Qix, Dig Dug, Star Raiders, Pengo, Pole Position, Final Legacy, even Pac-man. I could go on and on (or One-on-One). As far as the Jaguar Pad goes, you either love it or you hate it. I think most people are like myself and really enjoy the feel of the Jagpad though. I can't say it enough: If you like the Jagpad and have some of the other systems listed, you have to have this cable! Best Electronics sells the adapter cable by itself for $16.95 or you can get their current Special which also includes a Jaguar Power Pad for $26.95 (normally $36.95).
I understand they also sell an adapter cable that enables you to use a Sega Genesis or Compatible stick as above with similar results for $11.95. Best Electronics also sells virtually every part made for all Atari systems. Whether you need a cartridge for your 5200, the on-off switch for your 2600, or a new keyboard for your ST, Best carries them all. Give them a call today. Jaguar Pad Adapter Cable $16.95 w/out controller $26.95 w/Jag G series Power Pad. $32.95 with B series Jag Power Pad. Sega Genesis Adapter Cable $11.95 w/out controller. Best Electronics (408) 278-1070.
---
Add Best Electronics All Atari Web site to your Internet Explorer Favorites folder.
Copyright © 2002
Best Electronics in the Atari business since February 1, 1984.
This page Last modified: March 12, 2023
Phone: 408-278-1070 (1:30 - 5 PM, PST, M - F)
Current Pacific Standard Time is:
E-Mail:
bestelec@bestelec.digitalspacemail8.net