Atari Collectibles
Here is a very very short list of just some of the Atari Collectibles in stock. There is a lot more in the Best Rev. 10 Catalog.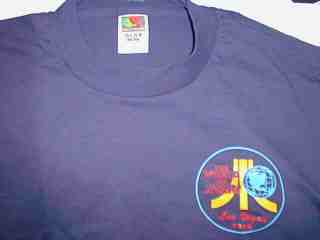 ---
Special Buy! Limited Supply! From the First World of Atari Trade Show in Las Vegas, Atari Collector "T" Shirts! These high Quality Fruit of the Loom brand short sleeve "T" Shirts, 50%Cotton, 50% Polyester Bend, are Navy Blue in color! Over the left chest area is a 3 3/4 inch Diameter Light Blue thin circle with a Solid Yellow Atari Fuji symbol inside, to the right of the Fuji symbol are the Red outlined words "The World of Atari", to the left is a light blue World Globe and below the Fuji symbol, Sold red words "Las Vegas 1998". Large and Extra Large Sizes. CB103094-L, -XL $20.00
---
Right out of Atari Purchasing/Engineering Departments! This Atari Micro Fiche/Aperture Card is 7 3/8 by 3 1/4 inch card with Key Punch rectangular squares and a 1 3/4 by 1 1/4 inch Negative imbedded into the Micro Fiche Card! Each Atari Micro Fiche Card has a printed Atari Engineering Part Number with a Description, Atari Engineering Drawing Size (A, B, C, D), Model used on, with the Atari Logo and Name! When Atari Purchasing would go out to buy a New or Past Atari part they would Give the Atari Vendor a Copy of the Print or Written Atari Specification that was on the Negative portion of the Micro Fiche card for quotation! 5 to 10 Thousand Different Atari Micro Fiche cards/Atari part numbers in stock! You may get an Atari Schematic Diagram, Engineering Blue Print, Electrical Diagram, Assembly Print, Exploded Assembly print or an Engineering written Specification Atari Micro Fiche Card! CB103072 $17.00
Circa 1980 to 1985 Atari! Right out of the Warner/Atari Company store, Clothing label. This 3 1/2 inch white paper Round Label says Atari Company Store, A Warner Communications Company" it also has the Atari name with the Atari Fuji logo above it! Each Atari Clothing label has been laminated into a clear 4 inch protective cover so they will last for just about ever! They will make a Very Unique Atari cup coaster (Cold only but not Hot beverages). We have actually talked to old Atari Employees who say I remember this label, it was on a Jacket I bought at the Atari Company Store! CB103074 $10.00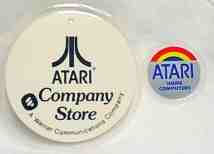 "Atari Home Computers" Label, Circa 1980 to 1985 Atari! These 1 1/2 inch Round labels were used by Atari on 8 bit products boxes and Trade shows! Each label is Silver in color with Blue letters and a Red, Yellow and Blue 1/4 of the label size Rainbow across the top. Each Atari label has been laminated into a clear 1 3/4 protective cover, so they are a Very Unique one of a kind Atari Collector item. CB103706 $3.00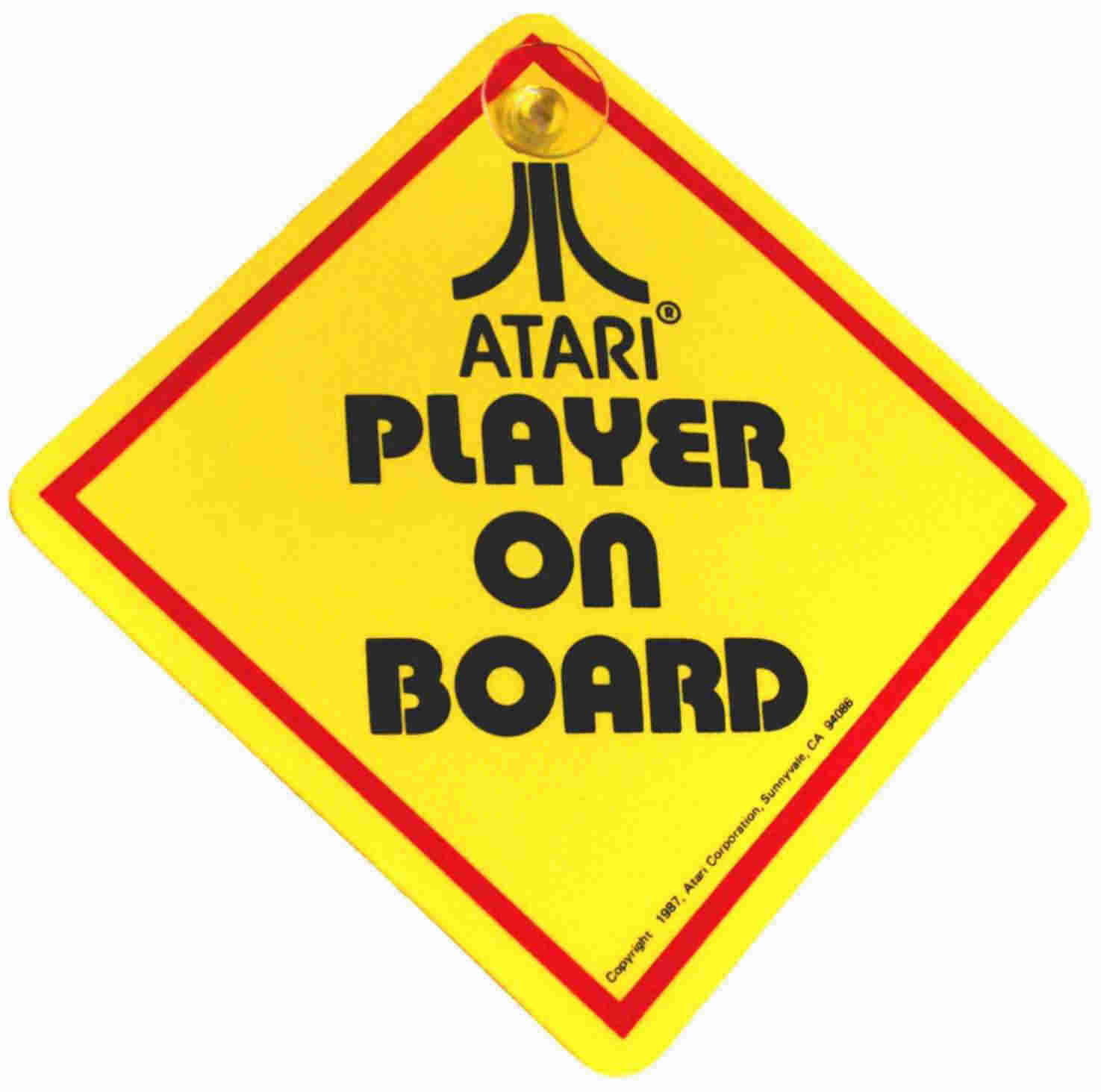 Genuine Atari PLAYER ON BOARD Car Window sign. Yellow 5 inch by 5 inch square plastic sign with a 3/4 inch wide clear top mounting suction cup. Clear suction cup can be removed for wall mounting purposes. These Atari Player on Board signs came right out of the Sunnyvale Atari warehouses when we cleared them out. Small print on bottom of Player sign "Copyright 1987, Atari Corporation, Sunnyvale, CA 94086" CB102864 $3.95
Atari Epoxy Collector Pin! This 3/4 inch Square Atari Collector pin with Tie Tack mounting clasp, has a Multi Colored Atari Fuji Symbol with a White boarder and Black "Atari" name below! The Atari Name and Logo are on a polished Brass Back ground with a Clear Epoxy cover! CB103056 $7.95

"I Love Atari" Collector Pin. This Brass plated Collector pin, has Individual Stamped out Metal Letters that Spell out "I Love Atari". Instead of a small letter "O" in the word Love there is a small Red Colored/Shaped Heart. This Atari Collector pin has a Double Tie Tack Mounting. CB103054 $7.95
Same as above "I Love Atari" Collector Pin, but in a Necklace version. Supplied with a Gold plated Chain with Locking clasp! CB1030540-N $19.95 Last 2, limit one
Atari Gold Fuji symbol (3/8 high) with Tie tack mounting CB101336 $9.95
Lynx Epoxy Pin! This very tiny (3/8 by 1 inch) Atari Lynx Epoxy Pin has the Lynx Logo and Atari Name/Logo below. This Tie tack pin has a Plastic backing clasp! CB103080 $7.95
Lynx APB Cloisonne Style Pin. This Atari Collector pin has a multi Colored picture (blue, red, black and yellow colors) of the APB Game Logo with is outlined in Brass borders. This Atari Collector Pin has a Tie Tack mounting! CB103079 $10.00
Circa 1982 Atari! Atari Employee internal use, "Things To Do Today" white note pad with the Atari Logo and Name in the Left hand side upper corner with Block letters across the top "Things To Do Today". Below that there is a blank space for the Date and a Check off column for things Finished that day and then 1 - 12 places to list Things to do!! Note pad is about 1/4 inch thick and each sheet of paper used in this note pad, is a heavy white bond type paper you do not see in most note pads today!! CB103081 $12.00
Atari Jaguar VHS NTSC Promotional Sales Video's or Jaguar TV Commercial's right out of the Atari Marketing Department! CB103083 $39.95
Atari Real Sports "T" Shirt CB101333-S "Sold Out"
Best found this exact green dusty wrinkled Atari physical Inventory sheet attached to a box of Atari custom I.C.'s in our warehouses.
If you ever walked into one or more of the Atari Sunnyvale finished goods warehouses, the first thing that you would notice, is the stacks and stacks of Atari goods on pallets stacked on top of more pallets (up to 3+ high) of Atari goods on the floor and up on 3 to 4 high level pallet racks stacked right up to warehouse roofs. Just about every square foot of each of the Atari warehouses had Atari goods on it. During the common California earth quacks the Atari warehouse guys would watch the many many stacks of tall palleted Atari goods (this was before the clear pallet wrap was invented) on the floor sway back and forth wondering if any of them fall over. If this was your 1st unescorted (when Best had an Atari warehouse appointment, we were always escorted by an Atari employee) visit to an Atari warehouse, it was very easy to get lost among the stacks and stacks of Atari goods that started to look alike. It was like getting lost in one of those large outside English gardens with nothing but 8 to 12+ foot high solid walls of bushes in a never ending / changing mazes. Many times you only reference was the exact warehouse ceiling you were standing under.
Next thing you would notice is a green (like in the pictures above) Atari 8 ½ by 11 inch Inventory sheets attached to a single box of Atari goods, pallet of goods or groups / walls of pallets of the same Atari item. The Atari warehouse guys had an ongoing (over many many years) contest to see who could find the oldest Atari physical green sheet (the date that Atari product was 1st inventoried). This version of the Atari green physical inventory sheet dates back to the early Warner owned days of Atari. Around 30+ years ago.
Atari Jaguar Clock! This battery operated Jaguar Clock, comes with an Atari Original Equipment Jaguar Green Blank PCB Board with Clock Mechanism (with wall mounting bracket) already installed. The Only installation that is required is to install the Brass Tear Drop Brass Shaped Clock hands (Hour, Minute and Second Sweep) on to the Clock Mechanism! (No Tools Required) One "A" size battery supplied with the Jaguar Clock! CB103060 $29.95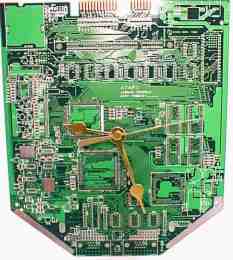 Right Out of Atari Corporate Head Quarters, Mounted and Framed Atari Technology Corp. Unreleased Stock Certificates! Each Atari Technology Corp. Stock Certificates has a Printed face Value of 20,000 Shares at $1 each! A Very Unique One of a Kind, Atari Collector Item! Limited to only 18 Certificates! CB103070 Out of Stock at this time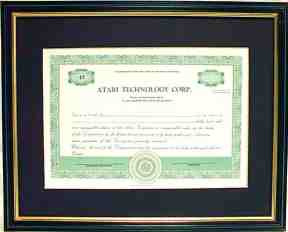 We found a box in our Warehouse with a lot of Atari Dust on it, full of Atari Bumper stickers (Circa 1987 Atari). They Say "I (Red Heart) Atari" These I Love Atari Bumper Stickers are 11 3/4 by 3 1/2 in size, with a black background, white block letters and Red Heart! CB103075 $10
A One of Kind Atari Collector Item! Mounted and Framed Atari 35mm Slide (each slide is imprinted "Atari Corporation" in black ink proving authenticity) and Atari Print (Approx. 3 X 5 Inch) from that Slide! Each Full Color Print and Color 35mm Slide is handsomely Mounted in a 8 by 10 inch Frame ready to be hung up on your wall! Like Walt Disney Cels, these Atari Artwork 35mm Slides will Only increase in Atari Collector Value! 2600 Battlezone Box Cover Art, 2600 Space Invaders Screen Shot, 2600 Pole Position Box Art, 2600 Yar's Revenge Screen Shot, 2600 Missile Command Screen Shot, 5200 Gremlins Box Art, 7800 Thunder Fox Box Art, 7800 Food Fight Box Art, 7800 Scrapyard Dog Box Art, 7800 Moto Psycho Box Art, Xenophobe Box Art, 8 Bit Millipede Box Art and 8 Bit/5200 Pengo Box Art! CB103071-BA, -SI, -PP, -YR, -MC, -GR, -TF, -FF, -SD, -MP, -XE, -MI, -PE All out of stock at this time!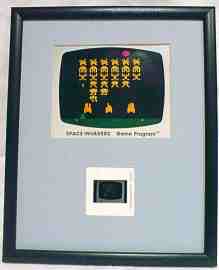 Jared T. of PA Jared ordered Bests Exclusive Atari Internal Paper work Collection. Very very few non Atari Employees have ever seen this internal (about 10+ years of) Atari paper work collection. "Received the (2) packs of Atari documents today. Very fascinating and exciting snapshot of Atari. Thank-you for the great service and patience. Many pieces I can frame up for my game room, any Atari fan would appreciate these packs you have to offer."
Atari Internal Paperwork Collection! This is your chance to see a part of Atari Very few Non Atari Employees have seen! This Atari Internal paperwork collection ranges from the early days of Atari (1979) to the Last days of Atari/JTS (1989). You get 1/3 Original Atari Documents with Atari logo's like, Atari Finished Goods, Release (FGR) (5 Part form), Atari Inventory Control card (Right out of one of the Atari Warehouses), Atari Purchase Requisition (6 Part From), 4 different Atari Mailing Envelopes, Atari Warehouse Shipping Label, Atari Material Transfer Order (MTO)(5 Part Form), An Atari Engineering Working Blue Print, Atari Graphics Department Project Card, Atari Accounting Shipping Document (3 Part), Atari Warehouse Box Stencil, labels and much more! You also get Photo Copies of 2/3 of other Atari Documents like, First Article Requisition (Atari QC department, Taiwan), First Article Sample Inspection Report (Atari Taiwan), Atari Engineering Fax cover Sheet (Atari Japan), Atari Fax Cover Sheet (USA), Facilities Work Order Request, Atari Corporation Engineering Change Order (2 part), Atari Approved Source of Supply, Atari Engineering New Release Documents and More! As an added Bonus, you also get two Atari Internal Documents that tell you how to Fill out the Atari Finished Goods Release forms and Shipping Documents. A Grand total of 30+ Atari Documents, Labels, Forms and Envelopes used at Atari over the years! CB103082 $45.00
---
Add Best Electronics All Atari Web site to your Internet Explorer Favorites folder.
Copyright © 2002
Best Electronics in the Atari business since February 1, 1984.
This page Last modified: January 16, 2022
Phone: 408-278-1070 (1:30 - 5 PM, PST, M - F)
Current Pacific Standard Time is:
E-Mail:
bestelec@bestelec.digitalspacemail8.net