This is a very short list of just some of the Atari ST Mouse, Best ST Trackball and ST Floppy Disks we carry. We have about 40 to 60+ different Atari ST Mouse / Best Trackball replacement parts in stock, including Atari ST mouse switches, Atari ST mouse cables and Atari ST mouse ball locking plates. If you do not see the exact Atari ST Mouse / Best Trackball part or items you need see the Best Rev. 10 Catalog or E-Mail: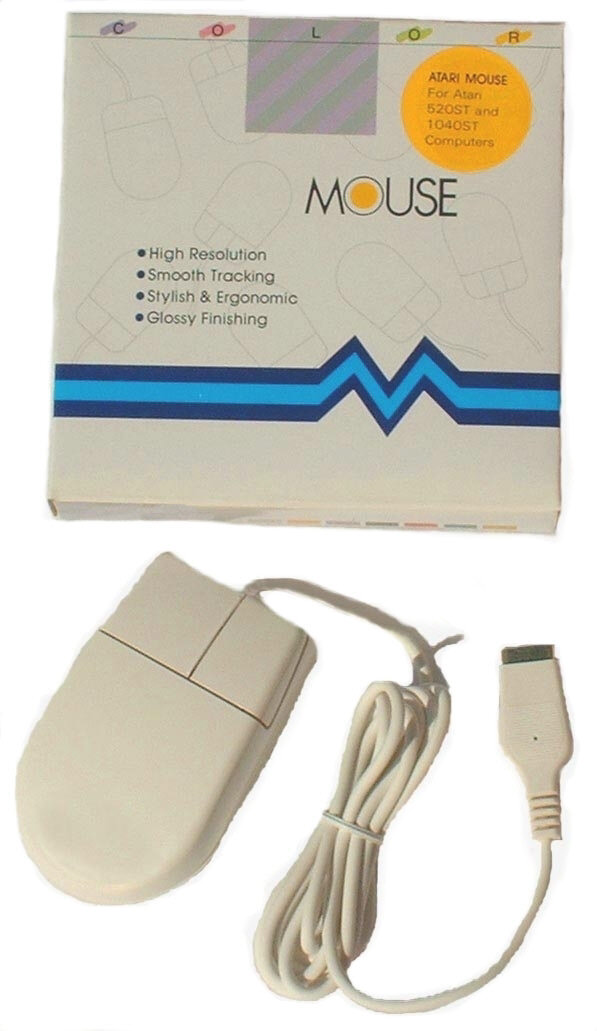 Best Electronics TrueMouse, Replacement Mouse for the Atari STM1 Stock Mouse. The TrueMouse has been our bench mark Replacement ST mouse for over 24+ years now. Thousands of World Wide Atari ST owners have found, once you switch over to a Best ST TrueMouse, you will never go back to the Stock Atari STM1 mouse ever again. Same over all physical size as the stock Atari STM1 mouse except a slightly lower and more comfortable profile with a back end of the mouse which is round in shape Not square with sharp corners!, Extra Wide Left and Wide Right mouse switch covers similar to the stock Atari mouse so it will fit all size hands and also has a tactical raised lip between the Left and Right switch covers, Extremely Positive Feeling Industrial Grade Micro / Mouse switches which are rated at a minimum of 1,000,000 operations per switch with only 120 grams operating force, Tracking resolution of 200 DPI, Opto-Mechanical Encoder Design, 5 1/2 Foot mouse cord, replacement TrueMouse parts available from Best and FCC Class B Approved. CB102079 $49.95
Atari ST Stock Gray mouse STM1 $79.95
Daniel W. of Canada On his very 1st Atari order to Best, Daniel ordered a New Atari STM1 replacement mouse and to rebuild his 20+ year old ailing Atari ST STM1 mouse as a back up, a New Best Hong Kong version (there were about 6 to 8 different Atari STM1 mice versions made over the years) STM1 Mouse rebuild kit. "Thank you items received. Excellent service, excellent items and excellent (and safe) shipping! Will definitely order again."
Ray T. of Canada On his very 1st order to Best, Ray ordered Best's bench mark replacement ST mouse for the the last 24+ years, called the Truemouse. "Thank you. Your shipment arrived today (May 20). Pleasure doing business with you. You excelled in every aspect of this transaction. All the best"
Dewey K. of WI Dewey ordered a new Best Mega 2 replacement Keyboard cable to replace the used one that was in bad shape on his just received Atari Mega 2 computer. He also ordered a new Best ST True mouse. "WOW!! I am very happy with the service I have received. You answered my questions, helped me through the ordering process, and shipped my order quickly. The keyboard cable is a great replacement for the old one. I really like the TrueMouse. It' much better than the Atari mouse!"
Kimmo P. of Sweden Kimmo contacted Best, a couple of E-Mails back and forth. He placed on Atari order for one of Bests Custom made 2nd Generation ST Multi Sync adapter cables, a HD 15 gender change for the Best cable, 1 each Best Atari Hong Kong, and Taiwan made STM1 Mouse rebuild kits. "Thank you very much! I received the products yesterday. Excellent quality!
Atari STM1 Rebuild Kit. Rebuild your order worn out Atari STM1 mouse and bring it back to original New like status. Each Best Atari STM1 Mouse rebuild Kit includes, a New Atari OEM STM1 Mouse cable, two New Internal Atari Mouse switches (2 different sizes), four better than the Atari stock STM1 OEM mouse feet Best's exclusive STM1 Mouse New thicker Teflon replacement feet and one New mouse ball (two different sizes). Based on selling Atari STM1 replacement mouse parts for the last 15+ years, the Best STM1 Mouse rebuild kit will repair about 95% to 98% of the Atari ST Mouse problems (bad mouse cables, worn out mouse balls, worn out mouse switches) we have seen.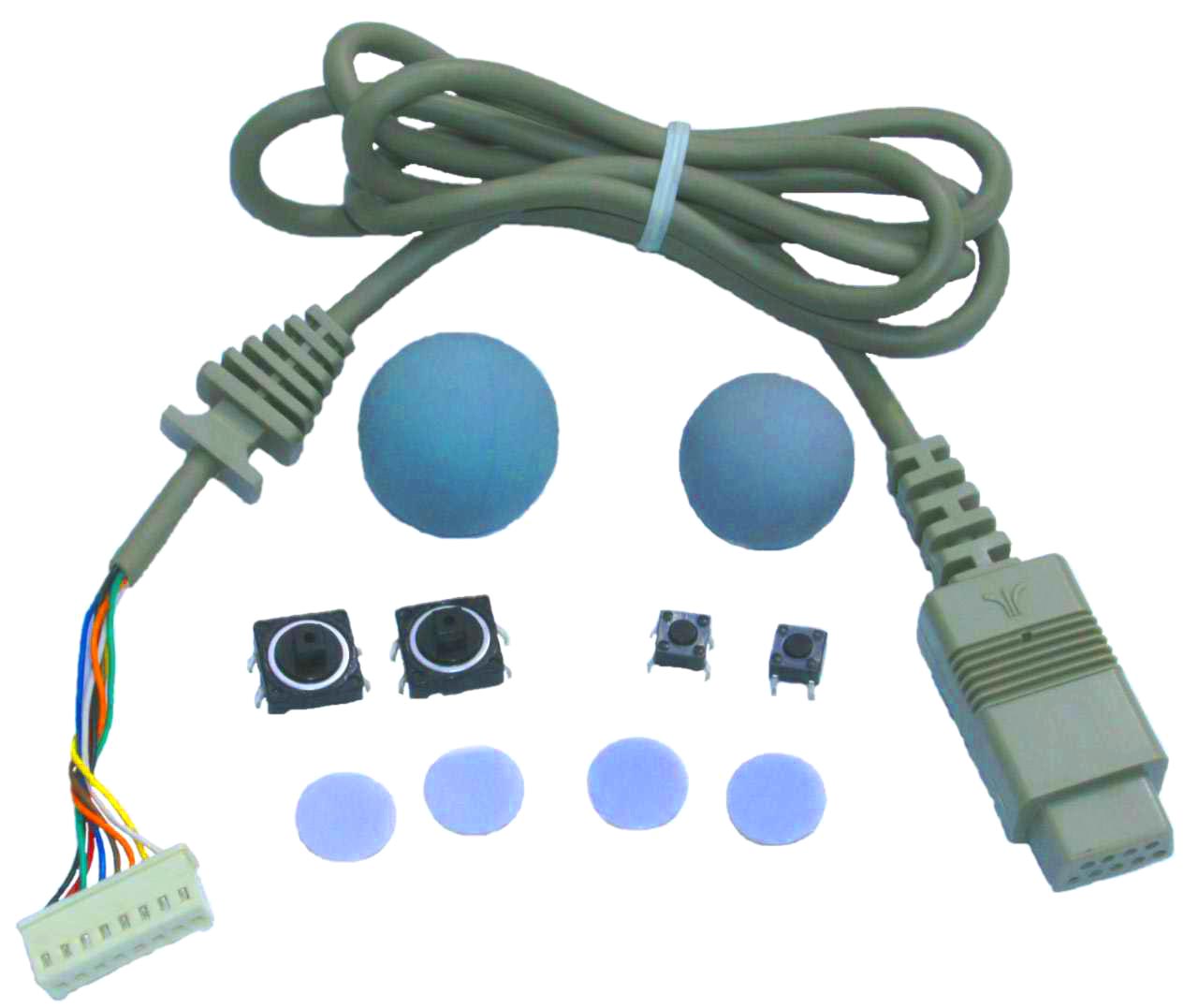 Over the years Atari had about 5 to 7 different manufactures make the same Atari STM1 mouse for them. Each version ST mouse looks the same from the outside but differs on the inside construction and bottom locking plate. All STM1 rebuild kits require ability to unsolder and solder in the replacement new mouse switches and in one case solder in loose ST mouse cable ends into the STM1 PCB board. To configure the correct Atari STM1 Rebuild kit for your exact version old Atari STM1 mouse, we need the following questions answered from you:
1. Where your STM1 mouse was made (one version, does not have a country listed). Usually listed on bottom label.
2. Do you have slide and snap in or Round twist and lock mouse ball locking plate?
3. Do you have Steel, Brass or Plastic internal Ball contact rollers?
4. Size of your STM1 Mouse ball, 22 mm (3/4 inch) or 25 mm (1 inch) Diameter?
5. Size of your STM1 Mouse Internal Switches, 1/4 or 3/8 inch square?
6. Internal STM1 Mouse cable female (and the Male mating) connector Color, Tan, White, Black or in one case wires soldered directly to the STM1 mouse PCB board?
Best STM1 Rebuild Kit. CB101398 $26.95
Also in stock for the Atari STM1 mouse, Bottom Mouse Ball Locking plates, Internal sets of Photo Optics (matched set of 8) and SMT or Dip version LM339 I.C.
Best's STM1 Mouse new Teflon replacement feet with adhesive backing. These Best designed and produced upgraded Atari STM1 replacement mouse feet (very light off white to light blue color), have a Teflon pad thickness about twice as thick, compared to the Stock made Atari STM1 OEM mouse feet. In theory should last twice as long as the Original STM1 mouse feet. CB101114 $5.00 per set of 4 feet
Best Mouse Plus upgrade Teflon rollers for Taiwan made (the bulk of all Atari STM1 mice made, see the bottom STM1 mouse label for the International Country it was made) Atari STM1 Mouse. One of the reasons why an Atari STM1 Mouse starts to act funny and not track properly is because the internal rollers become coated with gunk, lint, human skins cells, oils and sweat that was transferred from the mouse ball and do not properly spin / track properly any more. In the picture to the left you can see the new Best Teflon coated Mouse+ replacement Rollers to the right and to the left some well used steal shaft STM1 Taiwan made mouse rollers shafts. Normally the STM1 internal rollers should be a bright shinny chrome color, but the used ones in the picture are all most fully well coated (with a black material) and the steel is now are starting to corrode to the point they can no longer be properly cleaned or properly work any more. One of the best Atari STM1 mice made (out of the 5 to 7 different versions made) had all Teflon internal rollers and basically you never had to clean those internal ST mouse rollers. The Best Mouse Plus upgrade rollers will replace your old going bad STM1 Taiwan made mouse internal steel shafts and make your old Atari STM1 mouse act like new again. You will still have to clean the third steel mouse ball pressure roller inside your Taiwan made Atari STM1 mouse. All that is required to install the Best Mouse Plus upgrade Teflon Rollers is a small Phillips screwdriver. CB101619 Reg. $15.95 per pair Sale price $10.95 a pair
---
<![if !vml]>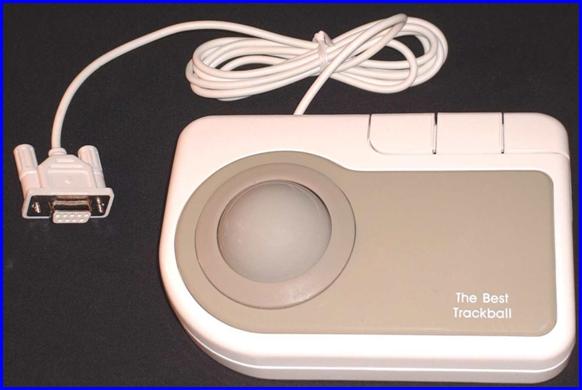 <![endif]>
PC Version of the Best Trackball
Atari ST and Atari ST Midi Users who have used The Best ST version of the Best Trackball over the years, all Love Their Best Trackballs and would never switch back to an Atari Stock ST mouse again. Why do people love their Best Trackballs? Fast and accurate Cursor movement compared to a standard mouse with less than half the effort. Great for Desk Top Publishing and Large screen monitors. With the right settings, you can cross the whole monitor screen (left to right, top to bottom) with a half a roll of the trackball.
Years ago, Best Electronics got in a very Limited Supply of the PC version of the Best Trackball. We quickly Sold Out to Atari ST Owners who also used PC based computers and could never get any more of these PC based Best Trackballs. Matter of fact, I personally bought the last 3 to 4 of these Great Best PC Trackballs we had in stock for our internal Company use. All of them are still in use today, on all of our PC Computers (Windows 98 to XP Operating systems) used at Best Electronics for the last 15+ years now, including the various Company PC laptops we have used over the years.
Over the last 15+ years, each of our Best Atari ST and PC version Trackballs had to be rebuilt (every 2 to 4 years) with new rollers and balls (as we literally wore them out from constant use), once rebuilt they would again perform like a new Best Trackball. Best Electronics carries all the Internal replacement parts for the Best Atari ST and PC based Best Trackballs.
Best Electronics just got in a Special Buy (the last ones we will ever see) of these great PC version Best Trackballs.
These Classic Best PC version Trackballs have the older Serial (DB-9) Interface connection. Most of the newer PC based Motherboards/ Computers no longer have Serial Ports, but do have USB ports. We use and highly recommend you use these New PC Based Best Trackballs with the Belkin Model F5U109 PC Computer Serial to USB short adapter cable. The Belkin F5U109 Serial to USB Interface cables can be found on E-Bay (usually under $10). Click on the multi color <![if !vml]>

<![endif]>name to Search for a Belkin F5U109 on eBay US site. Also Click on the Belkin name to search the US Belkin web site for prices and companies who carry the Belkin F5U109 Serial to USB adapter.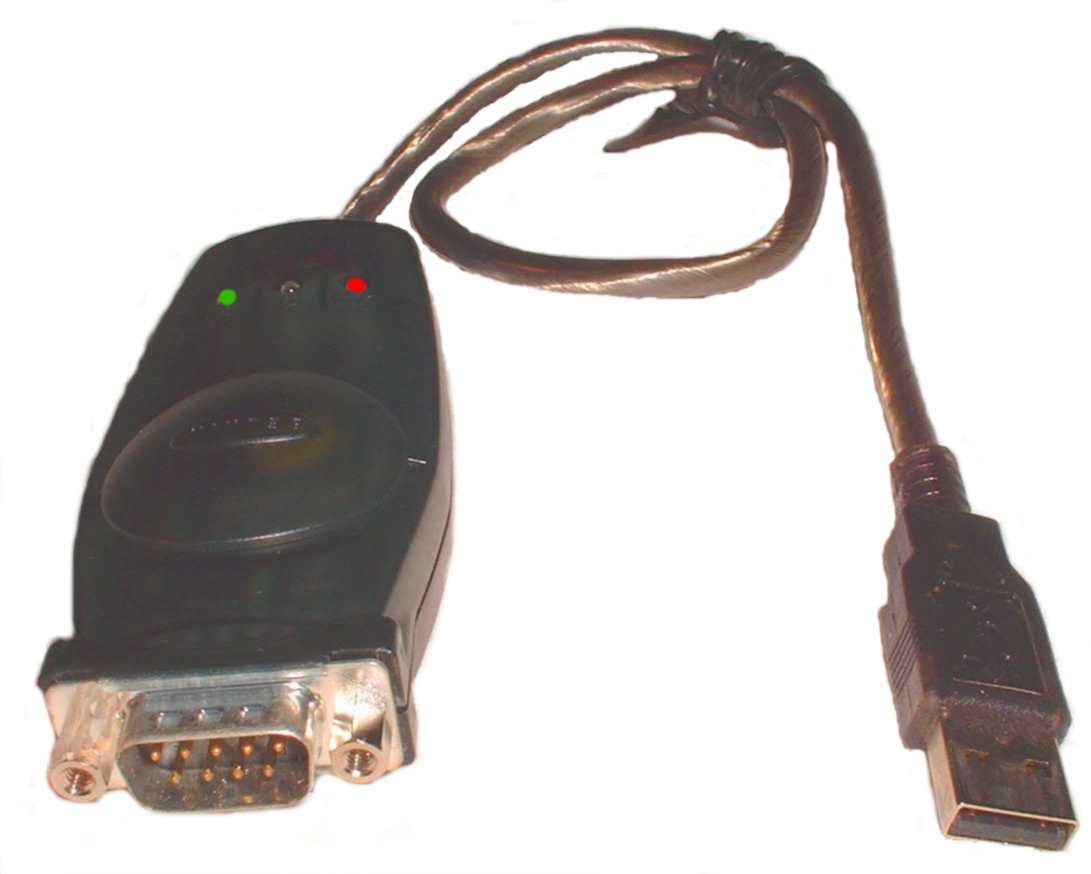 We found a small Supply of the USB to Serial Port adapter cables. Above Belkin F5U109 Model $10.00 or the Targus Serial to USB version $12.00
Features of the Best Trackball PC version:
PC Version Best Trackball CBT2 $59.95
---
Best Floppy Disk Information tip: for Atari ST Midi Composers and ST Users who use Atari 520ST, 520STFM, 1040ST, Mega 1/2/4, 1040STE, Stacy 1/2/4, MegaSTE and TT Computers equipped with 720K Internal Disk Drives, also Early Mac's and Amiga users.
One of the common questions we get from Atari ST Midi Composers or Atari ST Owners who are getting back into their ST computers is: I am having problems with saving my ST Files / Midi Files to my internal ST Floppy disk drive.
This type of ST computer problem can fall into four basic areas. A bad, damaged or worn out Atari 720K Internal Disk Drive mech., Internal ST Motherboard problem, a weak or going bad internal ST Power Supply or using the wrong type of 3 1/2 Floppy disks.
One of the first questions we ask them is, are you using DSDD 720K disks to save your data or HD 1.44 Disks?
If the answer back is I do not know? See the picture below. You can tell the difference between a 1.44 High Density (HD) and 720K DSDD disk by the number of notches (HD mode and write protect openings). A 1.44 HD floppy disk (left picture) will have two notches, an upper left always open notch (indicates to the disk drive that this is a HD disk) and a upper right sliding notch to tell the disk drive mech that this disk is write protected or not. A 720K DSDD Disk (right picture) only has the upper right write protect sliding notch / opening.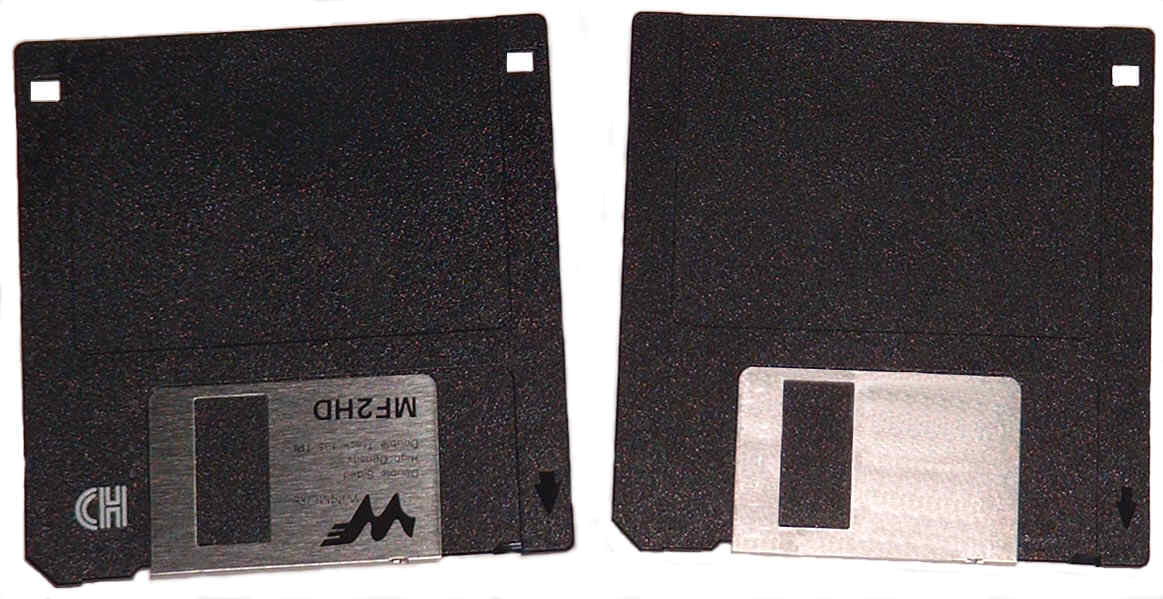 Basically what gets Atari ST / Midi users into trouble is, the 3 1/2 inch HD 1.44 Floppy disks seem to work fine in the 720K ST internal Disk Drives. They seem to format fine and save data fine to them. The problem with them is, the HD 1.44 Floppy Disks use a different newer type of high density magnetic media coating on the internal floppy disks compared to the older 720K 3 1/2 DSDD floppy disks. You can seem to save ST / Midi data to them, but what in fact is really happening is you are writing to a newer High Density Magnetic Media that the older 720K Disk Drive mechs were never designed to read and write to.
Typically what we have seen and heard back from Atari ST / Midi users in this case, I saved the ST files to my 1.44 HD floppy disk fine (no ST Disk Drive errors) but months / years latter now that I need that file, my ST internal Disk drive will not read the exact same disk. The ST Internal Floppy disk Drive error window typically says: Media damaged, disk not formatted or file not found.
The only way you can 100% avoid this problem is to only save your critical ST Midi and other ST files to ST formatted 720K DSDD Floppy disks only.
---
Although the 1.44 HD Floppy disks are more common (but now even they are starting to be discontinued out of general use) and the older 720K DSDD New Floppy disks are getting VERY hard, if not impossible to find now a days. To Support Atari ST Users, Best Electronics has recently got in a New bulk lot of 720K DSDD Floppy disks in.
They come different colors (Blank Black, Red (Sold Out), Blue, Tan Colored disks. DSDD 720K Floppy disks.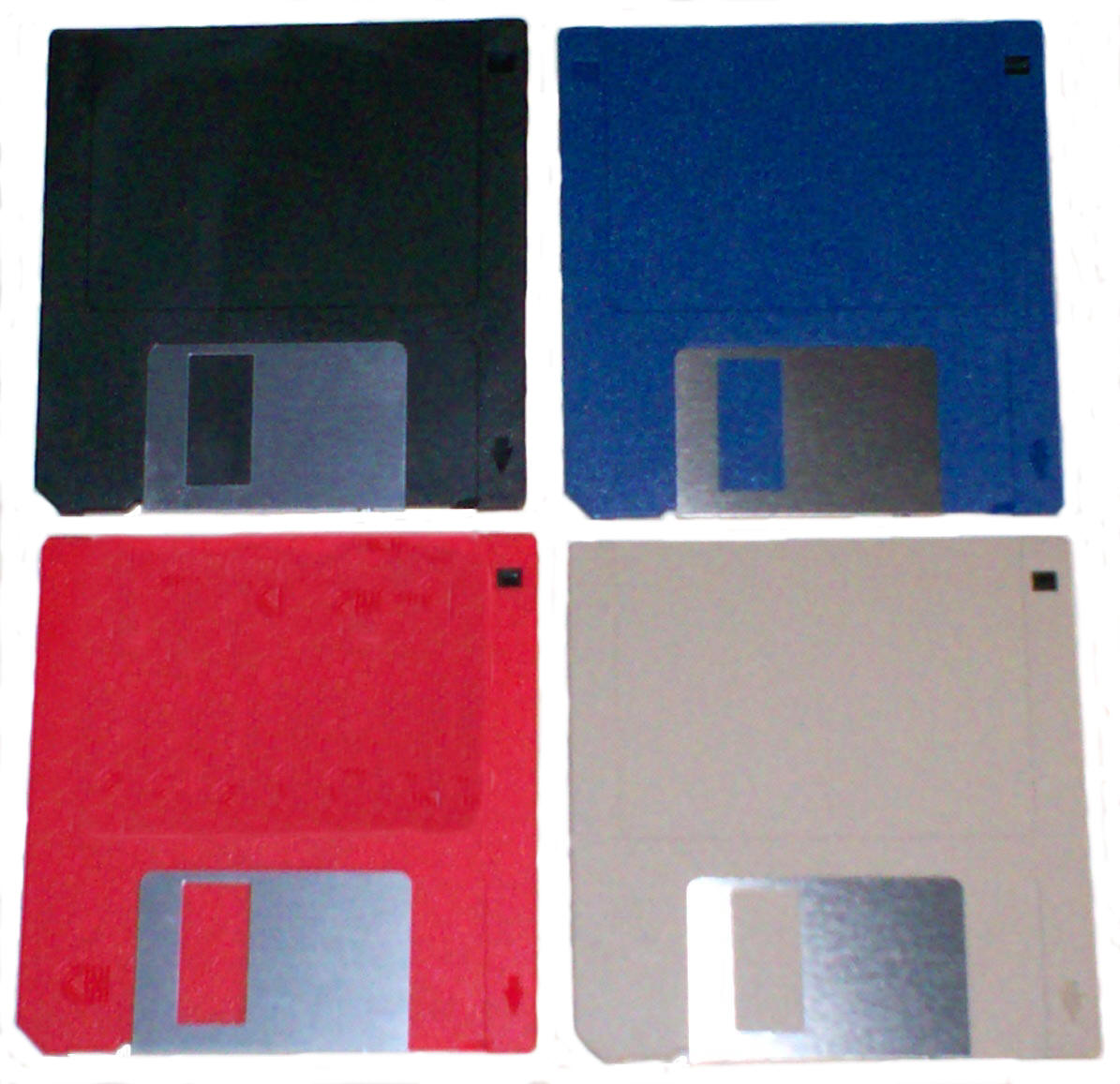 10 pack New 720K DSDD Blank disks (Blue, Black, or Tan colors) Bagged included with 10 Blank color 3 1/2 adhesive backed Disk labels supplied for $17.95 per pack
---
Add Best Electronics All Atari Web site to your Internet Explorer Favorites folder.
Copyright © 2002
Best Electronics in the Atari business since February 1, 1984.
This page Last modified: February 19, 2022
Phone: 408-278-1070 (1:30 - 5 PM, PST, M - F)
Current Pacific Standard Time is:
E-Mail:
bestelec@bestelec.digitalspacemail8.net