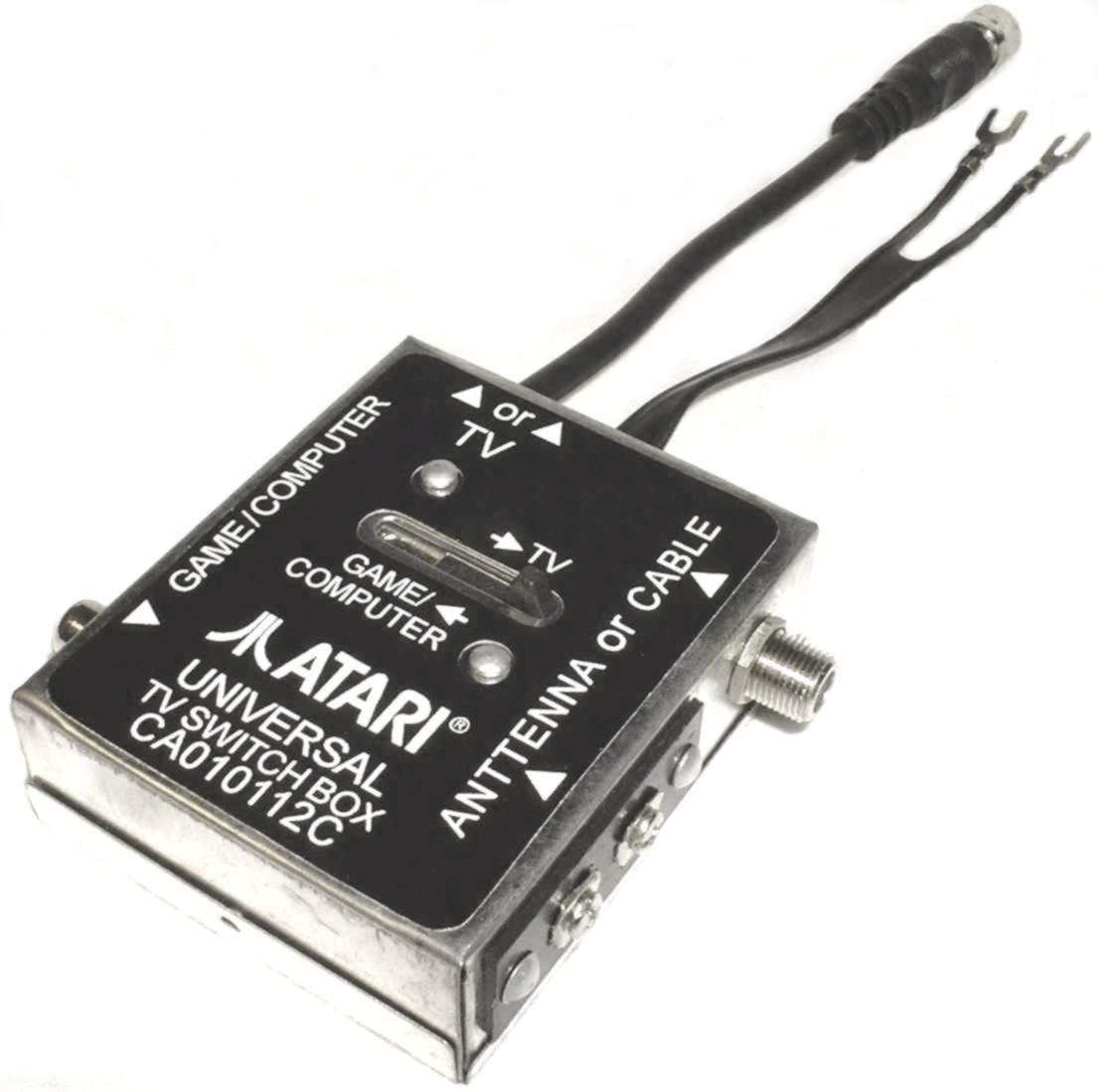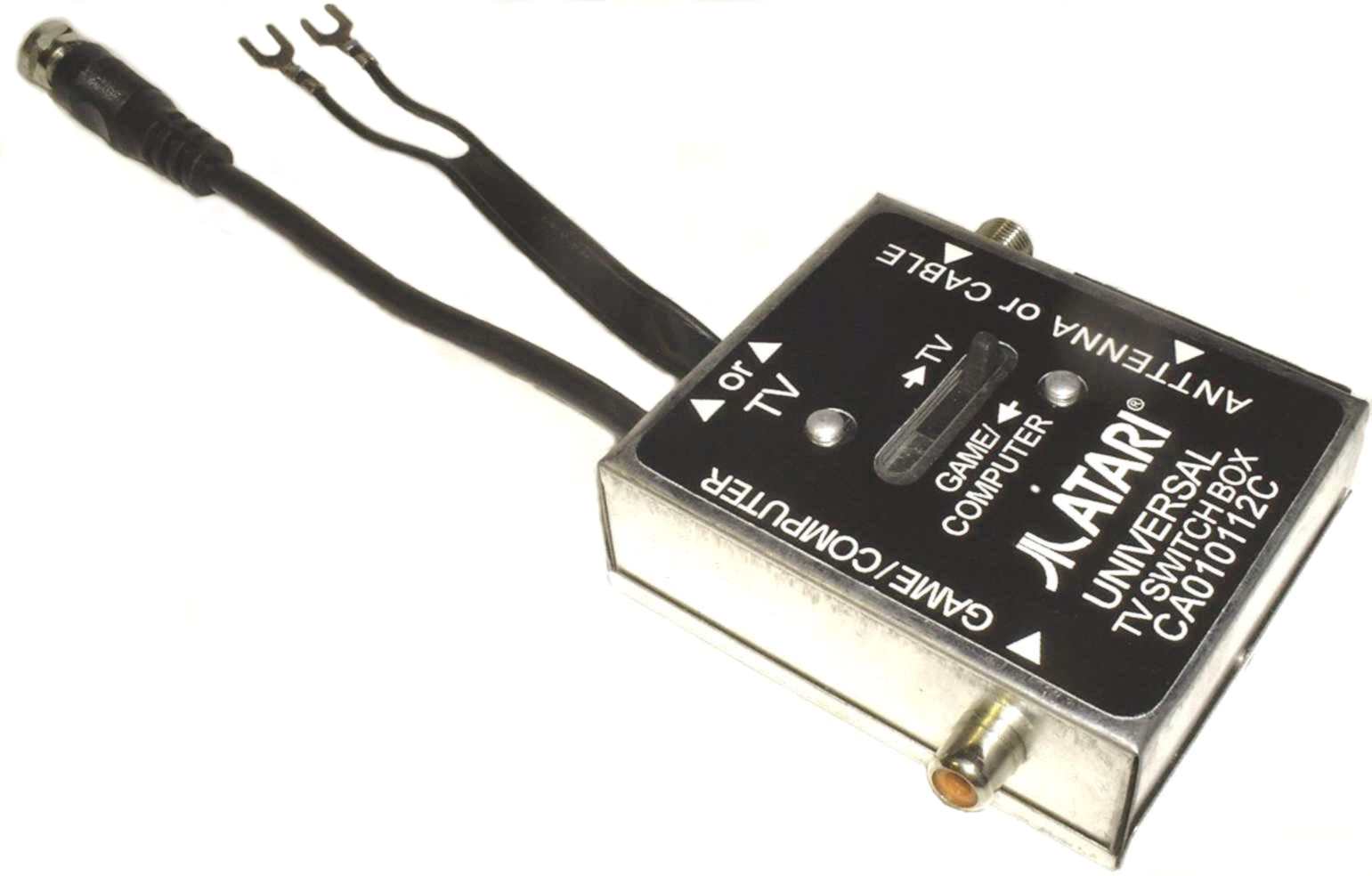 The Inís and Outís of Atari TV Switch boxes.
For older US Atari Game Systems and Atari 8 bit computers to properly connect up to an US TV, requires you have an older Mechanical TV RF switch box with the little slide lever on top.
The Atari Universal (will also take the place of a newer Auto Switching TV Switch boxes used on the newer and state of the Art video games) Mechanical TV switch box (above) attaches to the VHF twin screw Antenna Inputs on older US TVís or Cable in (Coax in) on Newer Cable Ready US TVís.
Lately we have seen some inexpensive TV Switch boxes hit the market place / Internet. These usually poorly constructed / made smaller RF TV switch boxes are about half the size of the above High Quality Atari Cable Ready Universal TV Switch Box. They look the same, but Ö. We have been getting reports back from Atari customers that the quality of these newer Smaller TV Switch boxes leaves a lot to be desired!
Most have cheaper metal cases so thin that when you insert the Male Atari RF cable connector (from the Atari Game or Computer) into the TV switch box side connector, the metal side of the TV switch box collapsed / bends in. One Atari user said when he grabbed his new smaller TV switch box to install the coax cable, both sides of the TV switch box folded in under light pressure.
Other Smaller TV switch boxes have found to have a non-standard thinner Coax Copper center wire, which do not make proper contact with the Cable Ready TVís Coax female receptacle. You usually have to wiggle the switch box coax cable into the TV to make proper contact and see a good clear picture on your TV.
Another problem that has showed up on these lesser quality smaller TV switch boxes, is they have a poor quality side RF connector, so when you insert your Atari Game RF Male cable connector into the side of the TV Switch box, you will have to wiggle this RF male cable connector to try to make proper contact within the TV switch box and get a clear picture on your TV.
Other people have found that the Twin lead ďYĒ metal connectors (2) or the Coax connector are poorly installed and have fallen off or are easily pulled off these smaller TV Switch boxes when they have tried to install them.
The most interesting problem we have hear about, is that the Smaller TV switch boxes seem work fine when installed, but Atari users have noticed that there was a lot of RF interference (wavy lines) on the TV game display, compared to another Atari Game system they have on other TVís using the above Atari Quality TV switch box. It ended up that a lot of the Smaller TV Switch boxes have a defective RF suppression internal design circuit.
The bench mark High quality Atari Cable Ready Universal TV switch boxes (above pictures) we have in stock, are superior in Quality to any of the newer smaller TV switches on the market. Matter of fact, this Atari Quality TV switch box has an upgraded fully Molded Coax interface cable, that is used on High Grade expensive Coax TV cables.
One last note, we have also seen some companies on the Internet offer a direct connector RF adapter for your TV to your Atari Game systems / Computers. These Direct Connect TV RF Adapters are bullet shaped (Screw on Coax male connector on one end and female RCA connector on the other end) about 1 1/4 inches long and screw directly on to your Cable Ready TV Female Coax input cable connector. They allow you to directly connect up your Atari RF Male cable / Game to your Cable Ready TV. They look like a good Idea but.......
The one Major problem with these direct connect adapters is, if you only have one Cable Input (at least 95% of the US TVís do) coax connector on your US Cable Ready TV, every time you stop using your Atari Game system or Atari Computer, you will have unscrew this direct connect adapter from the back of your Cable Ready TV and reinstall your Cable coax cable connector on the back of your TV to get your normal cable TV channels again, which is a real pain!! It is much easier to install a switch able Cable Ready Atari Universal TV switch box one time. Also the Direct Connect Adapters that are on the Internet do not have any RF interference suppressing Circuits in them, compared to the Mechanical Atari Cable ready TV switch boxes which do. That means you will get a clearer Game picture with less RF interference on your Cable Ready Color TV if you use an Atari Cable Ready TV switch box.
Click here to see all of the quality Atari TV Switch boxes and Connections to TVís for Atari Game and Atari Computer systems we have in stock.
---
Add Best Electronics All Atari Web site to your Internet Explorer Favorites folder.
Copyright © 2002
Best Electronics in the Atari business since February 1, 1984.
This page Last modified: January 29, 2023
Phone: 408-278-1070 (1:30 - 5 PM, PST, M - F)
Current Pacific Standard Time is:
E-Mail:
bestelec@bestelec.digitalspacemail8.net