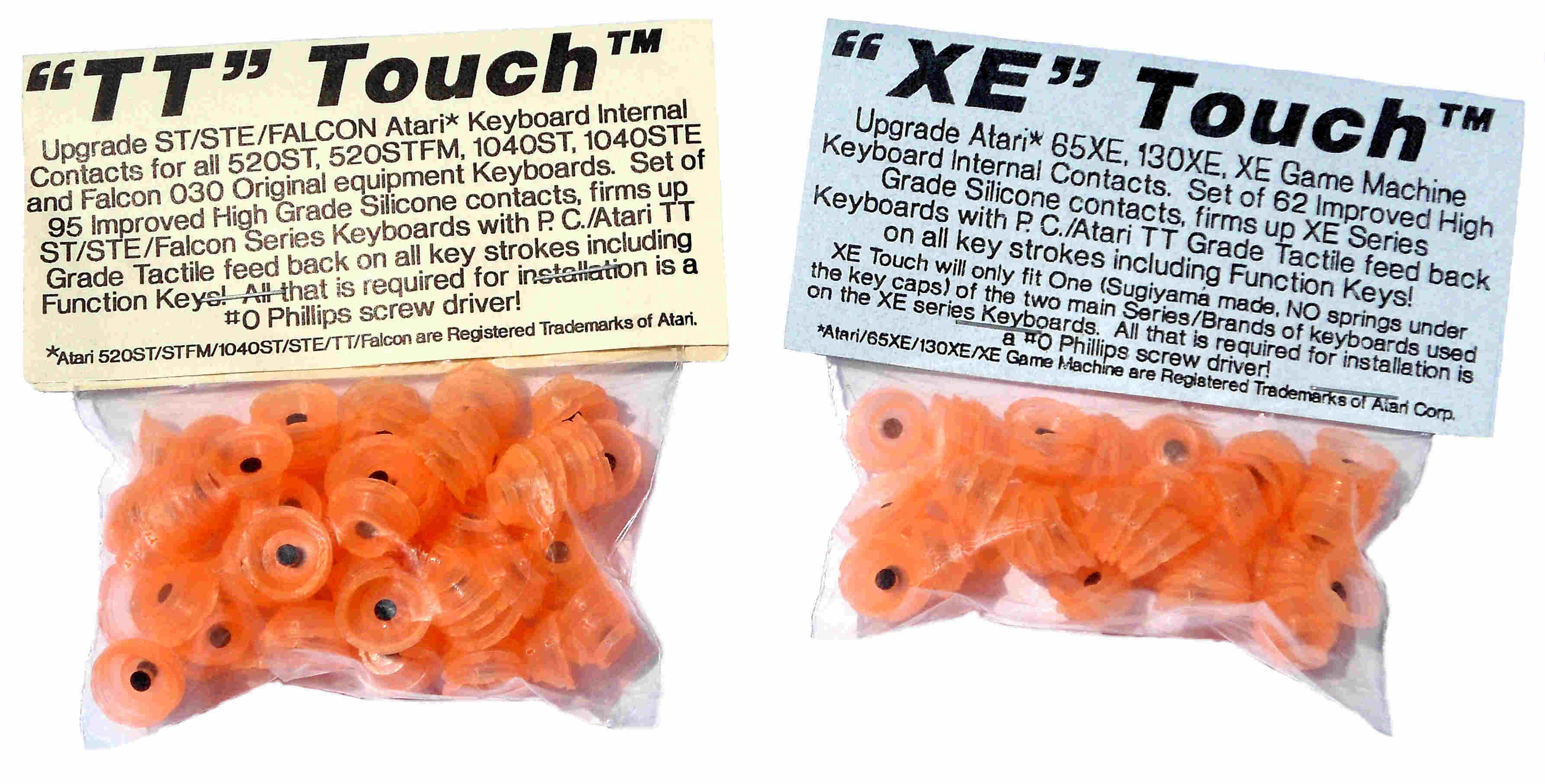 1st Generation TT Touch and XE Touch
The Story behind TT / XE Touch 2nd Generation Products
After selling the very popular Best ST TT Touch and Atari XE Touch Keyboard upgrade internal keyboard Silicon contacts all over the World for over 20+ years Best Electronics knew sometime in 2022 (happened September 9th, 2022) we would finally sell out of these very popular Best Exclusive Atari Keyboard upgrade products. We had to make a decision to either let them pass into Atari History or try to find another supplier of them. It came down to finding a New Silicon dome contact manufacture who still had the obsolete single dome contacts in stock and would meet Best high quality standards to Replace / Upgrade / Enhance the old 1st Gen. TT Touch and XE Touch 20+ old products.
Upgrades / Enhancements of the Best TT / XE Touch 2nd Generation upgrade
Keyboard contacts vs 1st Generation Best TT / XE Touch contacts.
1. The same crisp feel / tactical feed back feature when the key cap is pressed and released as on the Best TT / XE Touch 1st Generation keyboard upgrade contacts.
2. State of the Art current Keyboard technology half stroke key cap / dome contact travel distance, that all current made High Grade tactical PC and Laptop keyboards use now. The older PC / TT / XE dome contacts have the 25+ year old keyboard technology design of a full stroke (up and down key cap travel distance) on the dome contact travel. This shortened dome contact stroke / distance means you can type faster with less mistakes on any Atari ST / XE 2nd Gen. Touch upgraded Keyboards.
3. 2nd Gen. TT Touch Dome contacts use a Higher Density (less resistance across) State of the Art Textured Carbon dot contact / half of the mechanical switch.
4. 1 mm larger dome contact textured Carbon dot diameter contact. This will allow old / failing Atari ST Keyboards with worn off / glazed over (high resistance, failing on well used ST key functions) dome contacts and mating silk screened on Carbon traces (see Green PCB picture below), to start to work like new again. The 2nd Gen. TT Touch Dome contact larger diameter carbon dots, will make new contact with the mating silkscreen conductive traces, never touched / worn out by the smaller diameter ST stock small carbon dot contacts. One of our Atari German ST customers recently commented on the 1st Generation Best TT Touch contacts he just installed on his old 20+ year old ST Keyboard assembly. "I immediately opened one of my ugly-touch-keyboards and replaced the greenish silicone things with the new ones from BEST and reassembled the keyboard. I must say that I got more than I had expected: pushing the keyboard keys now requires a bit more pressure, but I am extremely happy with that pushing-point-feedback" (Tactical bounce / feed back when the ST key cap is pushed down and released). "In addition the computer now recognizes every key press which was not the case before"
Some 25+ years ago, early in the external keyboard industry, all versions of Atari / PC / Apple and other computer manufactures keyboards went from soldered in keyboard switches on a PCB board (very costly method of making keyboards) to a newer Keyboard that was constructed using a PCB, Internal Keyboard Mylar with Silicone conductive dome contacts (carbon dot inside the dome contact), an extremely cost effective method of making keyboards. The conductive dot inside the Silicon dome contact was equivalent to one half of a mechanical switch and the other half of the mechanical switch was either a PCB board with Silk screened on conductive traces or a Mylar sheet with Silk screened on conductive traces. So when an external keyboard key cap was pushed down, a key cap plastic plunger (under the key cap) would push down on the top of the keyboard internal dome contact with the internal conductive carbon dot, which would come in contact (complete an electrical keyboard circuit / switch) with a Mylar or PCB board conductive traces.
Tomala M. of Japan Tomala order 2 sets of Best new 2nd Gen. TT Touch ST / STE / Falcon keyboard internal upgrade contacts. Placing another Atari order with Best he said..... "First, I would like to thank you for the excellent quality of your TT Touch 2nd generation I ordered last time. I have already installed one set in my STE and the difference is amazing ! I will now have to install the second set in my Falcon, once all my project is over"
So the insides of keyboards of that era were a set of 75 to 100+ plastic cavities (see inside Atari ST Keyboard plastic tan cavities picture below) that each conductive Silicon dome contacts were dropped into. Next a conductive Mylar sheet with conductive traces was placed over the exposed silicon dome contacts and a metal backing was screwed together. A second method of Keyboard assembly, a PCB will silk screened on conductive traces (like the Green 1040ST PCB picture below) was placed over the exposed dome contacts and screwed together

Inside view of a current PC keyboard all in one conductive dome contact silicon
flat solid sheet. The straight and diagonal white lines on the flat silicon sheet the
air under each dome contact when it is pushed down and released. Without
the escape air channels, when the dome contact is pushed down, because of
suction created under the silicon dome contact would not bounce / release from
the mating conductive smooth PCB or conductive mylar.
Close up view (upper left corner) of the same above PC Keyboard, note the molded
in Dome contacts on the flat Silicon pad. See the shapes / profiles of the molded
into between / connecting the dome contacts are air channels to release / vent
dome contacts
About 20+ years ago (after Best made its one time buy of the 1st Gen TT / XE Touch keyboard contacts) the keyboard manufactures changed keyboard manufacture process. Instead of individual Silicon conductive dome contacts (which was labor intensive to assemble) in keyboard plastic housings cavities, the keyboard industry switched over to a single sheet of silicon (the same shape as the plastic keyboard assembly) with all of the dome contacts with conductive dots were molded onto a single pad (see 2 pictures above). So basically you had to drop the complete silicon pad / sheet with the conductive dome contacts onto the inside of the keyboard plastic matrix and close up the keyboard assembly. This proved to a very cost effective (way less labor involved) and faster method of making any newer computer keyboard assembly and why so many current State of the Art PC Keyboards are still currently made this way.
So in our 2022 early research, Best Electronics found that all of the old individual Silicon dome conductive contacts manufactures (including the one we bought the original TT / XE Touch Dome contacts from) simply went out of business 15 to 20+ years ago and all of those different Dome contact molds were simply scraped out for the lack of use / demand for that type of old single dome contacts any more. The old design / shape of the TT / XE Touch single Dome shaped silicon keyboard contacts is now considered obsolete in the keyboard Industry and is simply no longer used in current keyboard products that require a conductive dome contact switch. Some single silicon custom made dome contacts are used in current electronic products, but not in the very high volume of single keyboard dome contacts that were used 20+ years ago. At the same time, the Silicon contact Industry switched over to very cost effective almost flat disk shaped dome contact (half the up and down key cap travel distance) with raised stud on top with a conductive dot inside it molded onto a single sheet of Silicon (see above PC Keyboard pictures) of dome contacts. This type of new design / profile of Silicon conductive contact, is the same basic profile as the new conductive Silicon conductive pads used in the new 2019 Best made CX78 JoyPad upgraded silicon conductive replacement dome pad sets with the new tactical feed back features, lacking in the stock 25+ year old Atari OEM CX78 JoyPad original silicon pad sets.
Bests new 2019 CX78 Atari JoyPad controller Upgraded tactical feed back Fire buttons
and oval JoyPad dome contact silicon pads. Note the newer dome contact profiles
Best sent out 25 to 30+ requests all of the world to try to find a New Silicon Dome contact manufacture who still had very old type of single / lose dome contacts still in stock. Best got responses from about 28+ Silicon dome contact manufactures who responded back to our request, all saying they did not have the single type of dome contacts any more, but would make a new Silicon dome contact mold ($,$$$+) to make the old Keyboard single dome contacts for Best. On top of that high cost for the new mold, each new Silicon dome contact manufacture, required a min. 1st production run of around 50,000+ dome contacts (about a 60+ year supply for Best) off the new mold. So all of those Silicon contact manufactures were not even considered for Bests Silicon dome contact replacement manufacture.
There was only one Silicon contact manufacture in the world that contacted Best, that had 3 existing dome contacts that might work / replace / upgrade the old style 1st Generation Best TT / XE silicon dome contacts. They met most of the Bests Vendor requirements, have been in the Silicon dome contact industry for 20+ years, had a reasonable price per dome contact, that were still in stock ready to ship. Reasonable minimum order Quantities and quick order turn around. This time Best ordered about ˝ original quantity of dome contacts compared to the 1st Gen. TT / XE Touch dome contacts Best had to order 20+ years ago. We estimate that reduced order quantity is still about a 12 to 14+ years supply of them this time around. But this original quantity Best wanted to order this time , changed when a problem that showed up (and threatened to derail the whole Dome contact order) after Best had already placed the order for them. See end of this article for more information.
So on June 10, 2022 Best sent $$+ funds to the company for 3 different sample silicon cup samples and shipping cost for the samples sent to Best. On June 16, 2022 Best received the samples from the Silicon dome contact manufacture. There were the 3 we had originally talked about and two 2 new samples we had not seen or talked about before.
For a week+ Best ran compatible / function tests on all of the 5 new Silicon dome contact samples on different Atari ST / Falcon and XE keyboards. In the end one only sample conductive dome contact sample meet all of Best Engineering, function and cycle tests. But unlike the 1st Generation TT / XE full stroke keyboard upgrade contacts, Best found the one dome contact we approved, worked great in the Atari ST / STE / Falcon keyboard tests, but tested simply too stuff (required too much pressure to push down the XE key cap) on the Atari XE keyboard key caps. So we went back the 4 other sample dome contacts and retested one of the smaller outside diameter dome contacts with a solid round top pusher diameter pad on it. The ST approved new dome contact had a hollow diameter top pusher pad. The small diameter dome contact tested good on XE keyboard key cap functions. With the new dome contact tests results, it would mean Best would have to bring two different new style dome contacts compared to the single dome contacts used on the 1st Generation dome contact Best products.
Left: A couple of different colors of stock Atari XE Keyboard internal dome contacts. Best
describes them as Mushy / Spongy feeling dome contact with absolutely No Tactical feed back
when the XE Keycap is released. Right: Slightly smaller 2nd Generation XE Touch dome contact
with smaller bottom diameter and smaller diameter solid top cylinder with a good Tactical
feed when the XE key cap is released.
One interesting comment Best got from several ST / Falcon 2nd Generation TT Touch upgraded prototype keyboard testers, was the upgraded ST / Falcon space bar seemed stiffer to push down compared to all of the other upgraded ST key caps. In theory, all of the upgraded ST / Falcon key cap functions should require the exact same pressure to push down and release each key cap, because the same upgraded dome contact was used on all keyboard positions. But Best did verify this fact. Not sure if it is length of the space bar, the location of your thumb used to press down on the space bar or the exact space bar location on the keyboard assembly layout, but there seemed to be a pressure difference required to press down the upgraded ST / Falcon space bar compared to all of the other upgraded key cap functions. To give all Atari ST / 1040STE / Falcon keyboard owners a choice, Best will include one extra 1st generation day glow orange full stroke TT Touch dome contact with each 2nd Generation TT Touch package, so each ST / STE / Falcon owner will have the option to use a different space bar dome contact they like.
Dome contact profile view, Left: stock 25+ year old ST, Middle:
1st Gen. TT / XE Touch, Right: 2nd Gen. TT dome contact.
The newer flatter dome profile / contact design means ST Keyboards fitted with 2nd Gen. TT Touch contacts, means ST Key cap will travel will be about ˝ the normal distance down and up (about the same distance key cap travel down as a high grade current made PC / Laptop keyboards with Tactical feed back feature) will not bottom out on the ST Keyboard top plastic case surface when the key cap is fully pressed down until it stops vs the stock ST dome contact and the 1st Generation TT Touch / XE Touch dome contact travel distance (bottom of the ST key cap bottoms out on the top side of the ST keyboard plastic surface). The 2nd Generation TT Touch upgraded Tactical contacts have the same good feed tactical back a feature when the key cap is pressed and released compared to the 1st generation TT / XE keyboard contacts. Switching over to a TT / XE Touch 2nd Generation upgraded keyboard is like switching from an old external PC / ST full stroke keyboard to a high quality 1/2 stroke Laptop keyboard. It takes a little time to get use to the 1/2 stroke upgraded TT / XE keyboard (like a new computer keyboard or new Laptop keyboard), but in the end you will find you can simply type faster and make less typing mistakes on a Best 2nd generation upgraded Atari TT / XE Keyboard.
Dome contact resistance tests. Old ST tiny diameter center black conductive dots have around 269 ohms (average of 82 new and used ST keyboard Dome contacts tested) resistance across the conductive carbon dot diameter. The new 1st Gen. Best TT Touch conductive dots had about a 130 Ohms resistance across the black carbon dot. The New Best 2nd Gen. larger TT Touch carbon dots, have about 80 Ohms resistance. The more resistance (increases with age and amount of total keyboard use) across the black conductive dot, the greater the chances the ST Keyboard electronics will not pick up the keyboard switch closer when a ST key cap is fully depressed down is very high. Just like a new TV remote control vs a well used / old TV remote controller that starts to loose certain well used (you have to press harder and harder for the button to finally work) function buttons. Now the exact resistance you may get when testing old dome contacts carbon dots vs new carbon dots, depends on the spacing between the test metal probes tips across the carbon dots and amount of pressure the metal probe tips are pushed into the black conductive carbon dot top surface.
One of the new rejected dome contact samples
One of the samples of the dome contacts had a larger 5.75 mm diameter textured conductive dot. But it used low density (higher resistance across the dot) conductive carbon material. It measured 189 Ohms resistance across the carbon dot. It also had a major function problem, when push down hard, it would flatten out and not snap back to is normal bell shape, so it was not even considered as a possible replacement TT / XE Touch dome contact.
Close up inside views of the 2nd Gen. TT Touch improved waffle style carbon conductive dot top surface.
20+ Years ago, all Silicone dome black conductive contacts / dots made Including the ST and very very old (Atari was one of the very 1st companies in the world to use the silicon dome contacts on the State of the art back then 5200 Joysticks) Atari CX52 Joystick 4 silicone pads all had very small carbon dot diameters. They also used low conductive carbon content within each black dot. Which means they had a higher resistance across the conductive pad right from the start. Also they had a very smooth carbon dot top surface, which glazed over (caused the resistance across the conductive pad to increase with age and use) with any kind of normal years of use. The Best 1st Gen. TT Touch and the Best 2nd Gen. TT Touch carbon black dots use the higher density (more conductive carbon content within each conductive dot, less resistance across the pad) waffle design Carbon dot pads. After selling the Best 1st Generation TT Touch ST replacement dome contacts all over the world for over 20+ years, we yet to hear of single TT Touch dome contact with the higher carbon content failing in any ST / Falcon upgraded keyboard. Both version 1st Gen and 2nd Gen TT Touch Silicon conductive dots use the newer waffle conductive dot top surface design (see pictures above), which resists the normal old glazing over problem that the old smooth top conductive dots all suffered from.
Around the individual dome contacts bottom silicon ring, you will see 4 air escape channels / slots to
prevent the dome contacts from creating a vacuum seal when they are fully pressed down and released.
Conductive carbon dot diameters Left: ST stock Keyboard dome contact conductive carbon dot diameter = 2.85 mm
Center: 1st Gen TT Touch dome carbon dot diameter = 2.85 mm (in the above picture, the TT Touch carbon dot looks smaller than the ST Carbon dot to the left, but they all measure the same 2.85 mm across, it is just an optical illusion)
Right: 2nd Gen TT Touch dome carbon dot diameter = 3.85 mm
Best has always known as the old (15 to 25+ year old) ST keyboard individual / well used / always used ST keys would start to fail (pressed down on the ST Key cap until it bottomed out and nothing would happen) because of two reasons. The ST Keyboard dome contact 2.85 mm black conductive dot would glaze over and would go from a new conductive dot resistance (with good conductivity cross the carbon dot diameter) of around 269 ohms to over 600 to 1 Meg+ ohm resistance (based on the Atari CX52 joystick 30+ year old tested used Silicon dome contact carbon dot resistance tests), when that glazed over dome contact carbon dot touched the mating glazed (high resistance across the worn conductive E grids on ST keyboard PCB) basically two high resistances switch half's means no switch closer detected by the ST Keyboard electronics. So when that failing / glazed over old ST dome contact is replaced with a new Best 2nd Gen. Larger diameter TT Touch carbon dot dome contact (which will now touch unused outer portions of the two interlocking conductive E grids), the upgraded ST Keyboard will now act like a brand new ST keyboard again with the added 2nd gen. TT Touch tactical feed (key cap bouncing back hitting your finger tip) back features.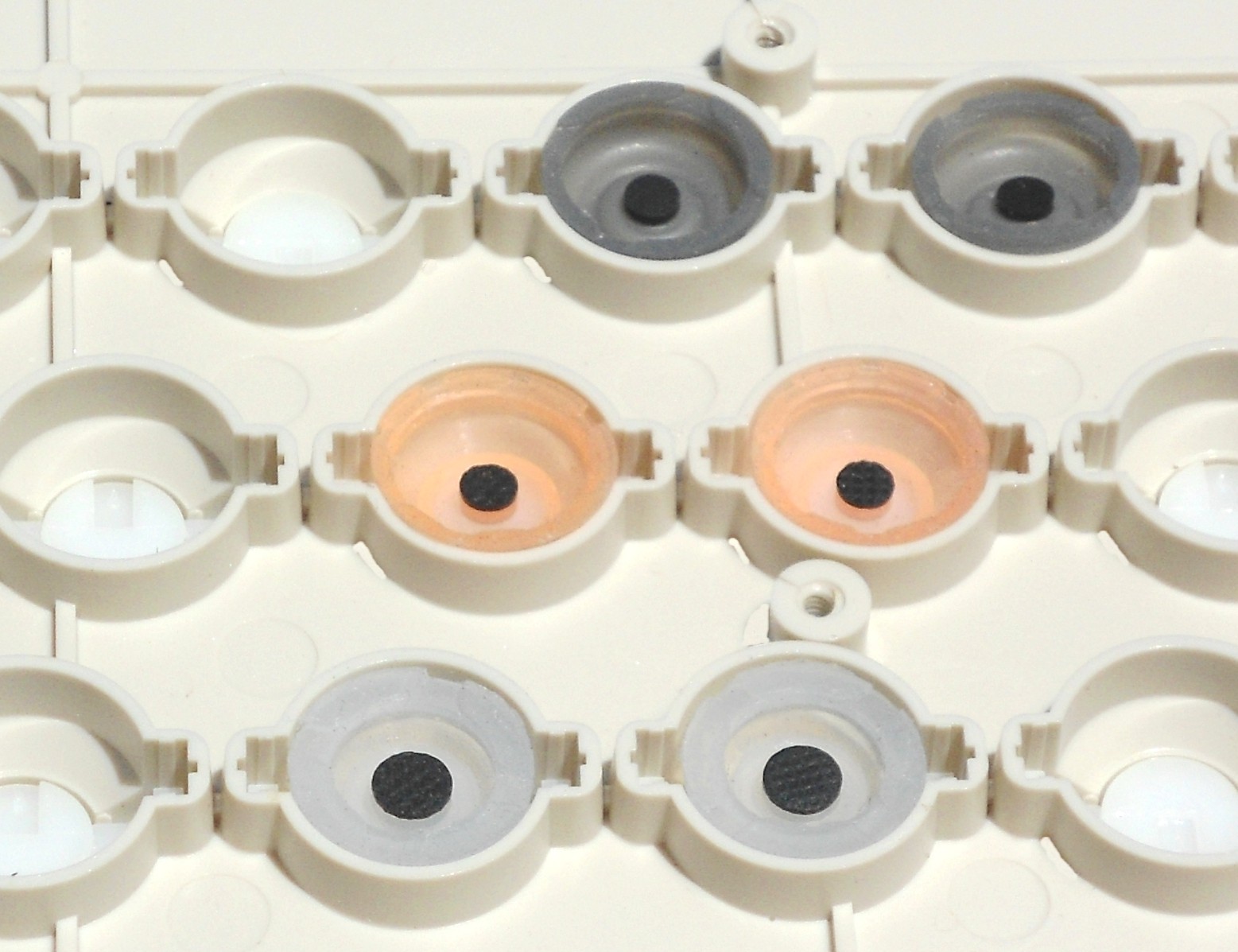 Inside view of a ST keyboard Plastic cavity side of the keyboard assembly. The left green PCB below with the conductive circuit traces is screwed down / over the above ST keyboard plastic shell with the dome contacts with the conductive carbon dots. The white round pusher disks that are at the bottom of the dome contact empty above cavities are the ST keyboard key cap outside ST white or black key plungers, that the ST caps are pushed / fit onto on the outside of the ST / STE / Falcon keyboard.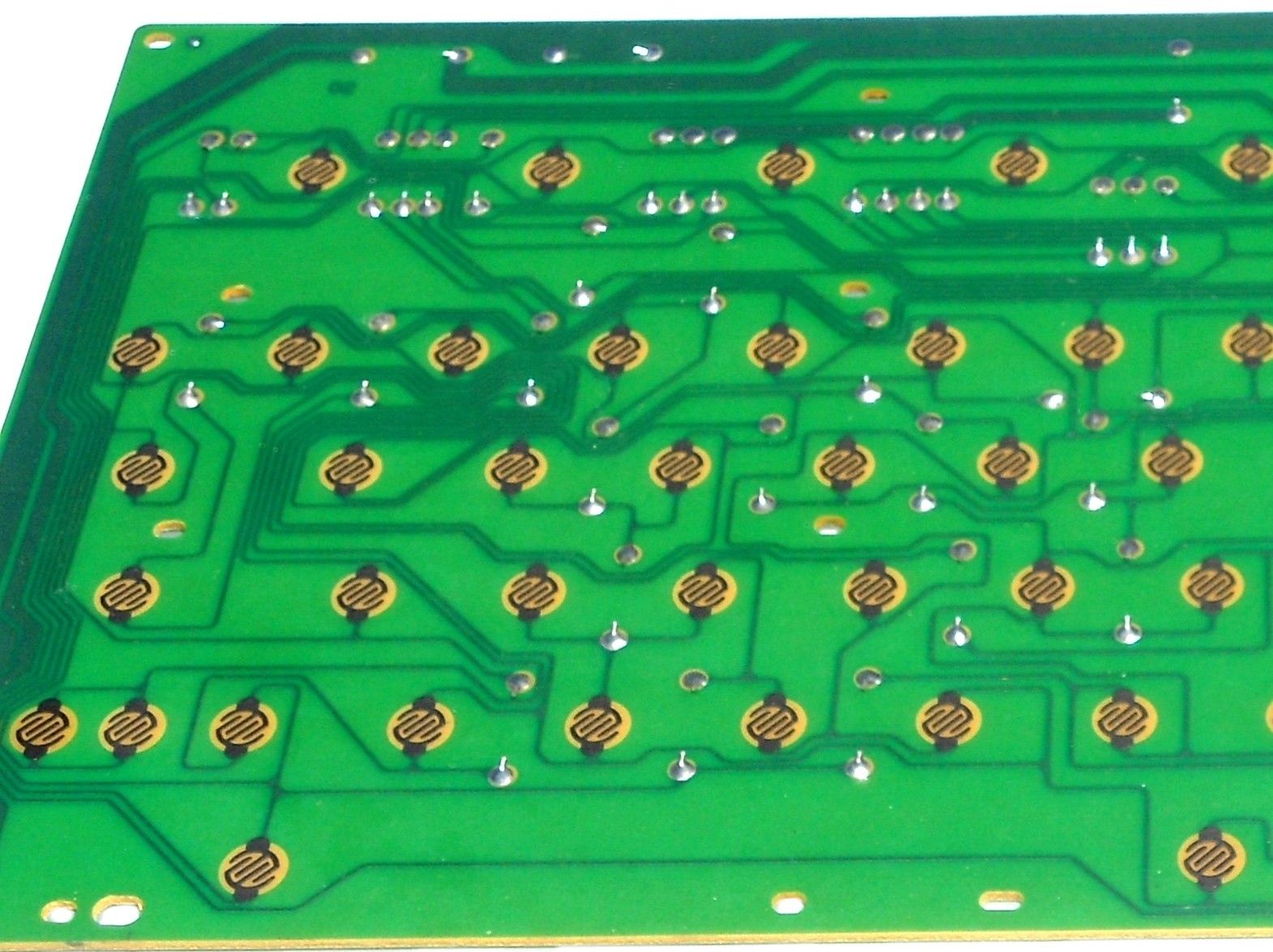 Left side internal view of a 1040ST Keyboard internal PCB.
Bottom right corner interlocking Conductive E grids is the
ST Keyboard space bar pad.
With all of the dome contact Test results in, Best made the decision to go ahead and bring in the Second Generation Atari ST TT Touch and XE Touch contacts again. On June 20, 2022, we E-Mailed our new Silicon dome contact manufacture, saying that we approved two of the sample dome contacts they sent us and would like place an order with them. A few weeks of back and forth with the manufacture over order details like payments methods, shipping methods, scheduled shipments and Invoice details. A couple of hick ups / delays on the payment method.
On July 18, 2022 we got interesting E-Mail in from our Dome contact manufacture. They said that their warehouse people made a mistake on the one and only TT Touch Dome Contact Best had approved. They said after a week of searching their warehouses very large old dome contact inventory, they could not find the exact dome contact Best approved. Best guessed it had been about 10 to 15+ years since they last produced that exact dome contact in large Quantities and nothing since that time frame. All they had left in stock was a few Sales department samples. But they still did have a good supply of the smaller XE dome contacts Best required / approved.
Best has been in this exact situation many many times in the last 39+ years in the Atari business. Some Atari replacement part we made 20+ years ago, we get in a single new request for that Best made Atari part again in 2022, only to find out we sold out of the 8 to 10+ years ago. In Bests case, trying to revive or even find 20+ year old tooling to make a new production run of an very old Atari part simply not cost effective for a single Atari part sale. So Best did not get to upset when we got this news of out of stock information from our new Dome contact manufacture.
Even though the approved 2nd Generation TT Touch Dome contact part shortage was nothing we could control on this end, in the past with other Far East manufactures Best has contacted, they have simply said, it was not cost effective for them to make a new small production run and have just returned the already paid funds back to Best. Back in the hay day (20+ years ago) of Dome contact manufacturing, they would produce millions and millions of each dome contact style they produced, which was very cost effective for them. To prevent this from happening again, Best made an offer to our new Dome contact manufacture to double our total requirement of dome contacts, if this would help our dome contact manufacture to cost effectively / produce such a small new production run of this exact dome contact Best required.
On July 21 2022 we got another E-Mail in from our dome contact manufacture, saying they really appreciated increasing total dome contact order quantity. They accepted our offer. Our Dome contact manufacture Sales department talked to their Production Manager. He said it would about 2+ months before he could fit Bests small new dome contact order into his booked solid (for the rest of this year) production schedule. A day latter our Dome contact manufacture, sent us Invoice for Best to pay. On July 27, 2022 our dome contact manufacture said they received our payment. They said they would let Best know when the 1st scheduled shipment of the new dome contacts was shipped later this year to Best.
One of the other fears Best had, was if the very very old dome contact molding was still in good working shape. Hundreds and hundreds of times in the last 39+ years, Best has found old Atari tooling / molds in the Far East to only find out that old Atari tooling was damaged (rust, water damage and so on) and not useable any more because of years no use, neglect or no tooling preventive maintenance on them. Our Dome contact manufacture said they pulled out that very very old dome contact mold out of mothballs and it was still in good enough shape to make just one more small production run for Best without any mold updating, repairs or maintenance. After that small production run, they said they are going to retire / scrap out that old dome contact mold.
On September 17, 2022 Best received 1st shipment of the 2nd Generation TT Touch and 2nd Generation XE Touch dome contacts. Incoming receiving did a full QA Inspection on them. They passed all dome contact dimensional and functional Best specifications.
2nd Generation Best TT Touch Upgrade 520ST 1040ST / 1040STE / Falcon Keyboard contacts CB101980-2nd $36.95
2nd Generation Best XE Touch Upgrade keyboard contacts CB102117-2nd $29.95
---
Add Best Electronics All Atari Web site to your Internet Explorer Favorites folder.
Copyright © 2002
Best Electronics in the Atari business since February 1, 1984.
This page Last modified: June 25, 2023
Phone: 408-278-1070 (1:30 - 5 PM, PST, M - F)
Caller ID # required on all phone calls to Best
Current Pacific Standard Time is:
E-Mail:
bestelec@bestelec.digitalspacemail8.net